If you've been fishing as long as me, you will know that comfort on the bank is vital, and that mostly comes from wearing the right clothing for the conditions. When I started fishing some 20 years ago, I often would go in anything I had in the cupboard. Joggers, t-shirts and about ten layers when it got cold, were the name of the game. As I've got older and wiser, however, I've realised that dedicated outdoor clothing isn't just a gimmick, it's a necessity!
GET THE BEST BLACK FRIDAY DEALS ON FISHING CLOTHING HERE.
With all that said, I still don't like splashing out a fortune on clothing items I know will get totally destroyed when I go fishing. I'm not the cleanest angler and have certainly had many frustrating cold winter afternoons trying to cut tiny barbed hooks out of my joggers.
With all this in mind, it was a recent purchase by my partner's mother from Amazon that totally changed the game for me when it came to fishing attire, and that was the TACVASEN Men's Waterproof Softshell Breathable Warm Fleece Winter Lined Trousers.
Great for all outdoor activities including hiking, walking, hunting, camping and skiing, these Polyester, warm fleece lined and windproof trousers are everything you need to face the challenging elements as an all-season angler.
The windproof and waterproof fabric surface on the trousers ensures you will always stay warm, whilst the reinforced knees and thick fleece lining keep the trousers durable - vital for the rigours of angling on rivers.
They are available in sizes from 30-40 and in 5 colours, including Army Green, Black, Dark Grey, Light Grey and Navy Blue.
IF YOU NEED SOME BOOTS TO GO WITH YOUR TROUSERS, HERE IS OUR GUIDE TO THE BEST FISHING WELLIES.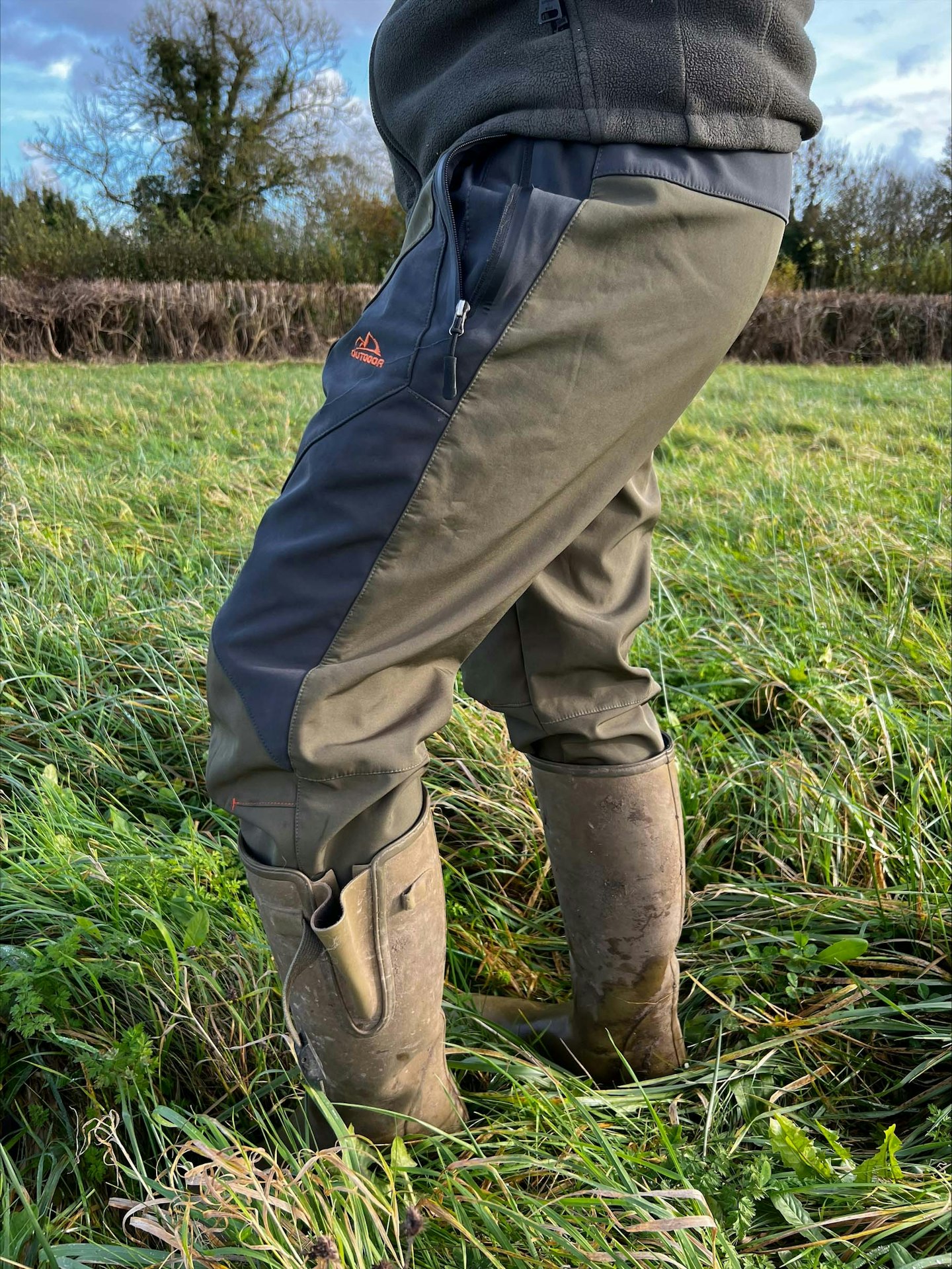 The verdict
Whilst I was skeptical at first that a pair of trousers for less than £50 would be up to the task required to keep me comfortable when fishing, I have to say I have been mega impressed with this pair from TACVASEN.
I've had them for around 6 months now and whilst they might be a bit too warm to wear when it is really hot in the summer, they are a life saver now it's got cold. The fleece lining is really comfortable and keeps your legs warm in all weathers, without the need for any under layers.
There are plenty of pockets on the trousers to store all your angling essentials and more importantly, the waterproof fabric keeps them dry too. I actually fell into the river up to my waist wearing these and not only did they dry relatively quickly, but my phone, that was in one of the pockets, survived the experience. Not something I would recommend trying but it does give me the confidence to say that these trousers will hold up well should you get caught out in a shower on the bank.
I have the green pair (carpy right?), but they are also available in several other colours, which I may well be investing in too. Mind you, these have survived several washes already with no hint of deterioration, so I probably don't need to bother.
Perhaps the only negative I found is, for me at least, the fitting was a little close. So, if you want to play it safe, I'd say order a size above your usual, despite that being opposite to the advice on Amazon. I tend to have this trouble with jeans too!
Anyway, an incredible set of fishing trousers at a bargain price. Don't let the unfamiliar name put you off - these are great!
FIND OUT MORE ABOUT THIS PRODUCT AND OTHERS FROM TACVASEN HERE.
Tech Spec
Polyester material

Machine washable

Warm fleece lined inner

Multi zipper pockets

Windproof and waterproof surface

Reinforced knees
Description
Warm, waterproof trousers, perfect for fishing in all winds and weathers. With multiple pockets
Pros
Provide superb warmth in the colder months.
Fast drying waterproof outer material.
Cons
Probably too warm for summer use.
Our pick of the alternatives
Description
These elasticated Daiwa Gore-Tex Infinium Trousers are ideal to wear under your bib and brace or
Pros
Superb material.
Lightweight.
Cons
Not the most comprehensive range of sizes available.
Description
Constructed from a waterproof, lightweight and hard-wearing breathable material, these Preston
Pros
Really lightweight.
Good waterproofing.
Description
Designed to be a perfect fit for match anglers, the Guru Match Kombats are constructed from a
Pros
Loads of pockets.
Quality material.
Cons
Not that warm in the winter.
Author Chris Haydon is a keen and lifelong all-round angler that is currently in the position of Online Editor at Angling Times. As an angler, Chris likes to fish for just about everything that swims, from big roach to monster carp.