One hookbait in specimen carp fishing that doesn't get the credit it fully deserves is sweetcorn. It's been doing the business ever since anglers first started specifically targeting carp, and its effectiveness hasn't waned one bit. Readily available, it catches carp everywhere from the easiest runs waters to the toughest low-stock gravel pits.
Yet for many anglers corn is just something used to bulk out a spod mix, or used in fake form to tip off a boilie hookbait for a little added visual attraction. I'd argue that corn deserves a lot more recognition in its own right, as opposed to being a mere addition to other items.
MAKE SURE YOU HAVE A SET OF QUALITY BITE ALARMS AS CORN COULD MAKE THEM SCREAM OFF MORE THAN EVER.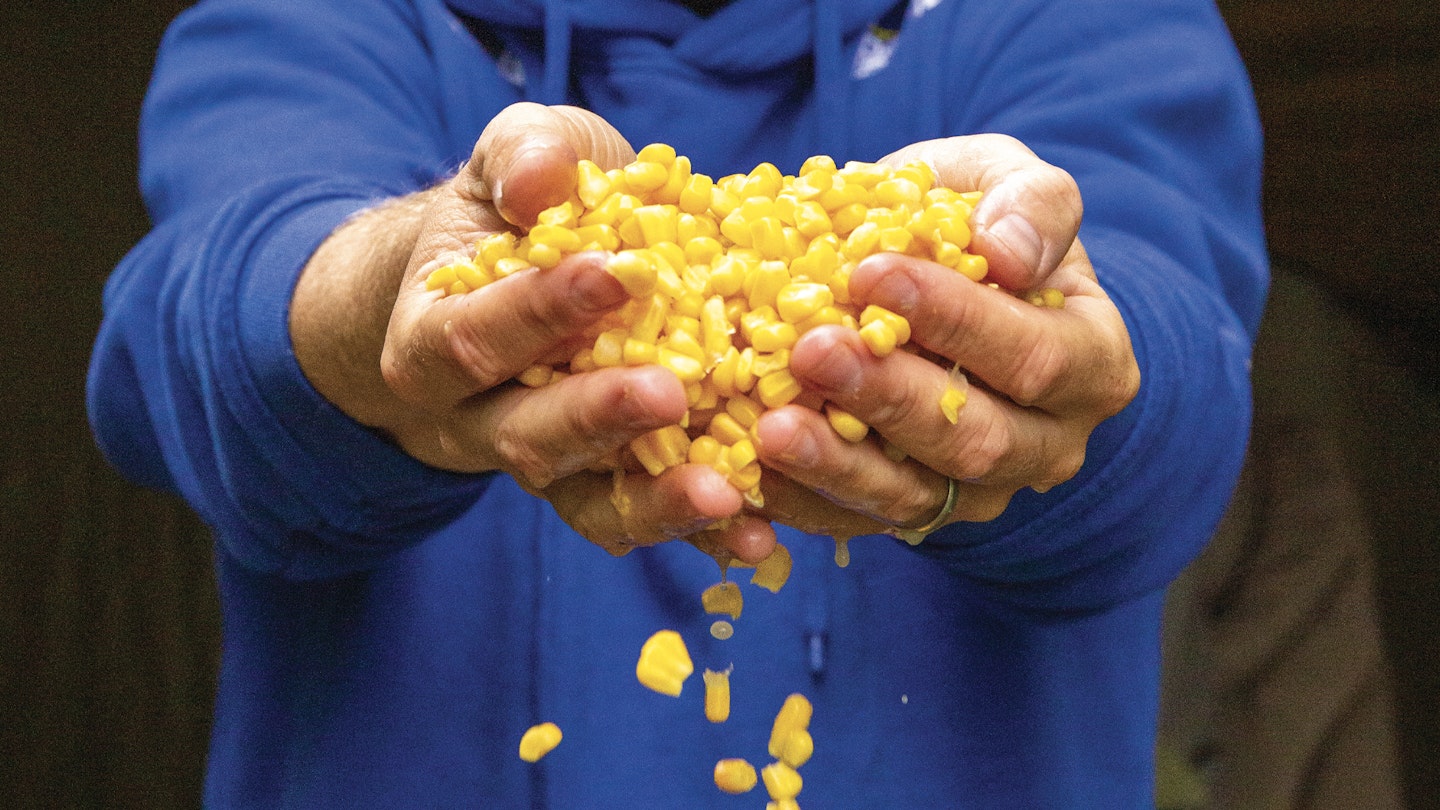 Reasons to love corn
A key advantage of corn is its bright yellow colour. Even just a small handful on the lakebed will be impossible for fish swimming nearby to miss. Carp are inquisitive creatures, and will often be unable to resist investigating further. And once they start picking up a grain or two, they'll soon want more!
It is soft and easily digested by the carp too, which means you don't have to worry about putting in too much. It can also be used effectively at any time of the year – even in the depths of the British winter. And then, of course, there's its price. It's ridiculously cheap!
You can grab a 300g tin for pennies, or get even more for your money by investing in the 1kg bags of frozen corn you'll find in the freezer section of most supermarkets. If you want to embark on a prebaiting campaign or bait heavily over the course of a session, your wallet will definitely thank you for using sweetcorn! And, if you fancy something a bit different to standard corn, most tackle shops stock tins of it in various flavours and colours.
CARP WILL EAT A WHOLE MANNER OF BAITS. CHECK OUT OUR GUIDE TO THE BEST CARP FISHING BAITS AVAILABLE.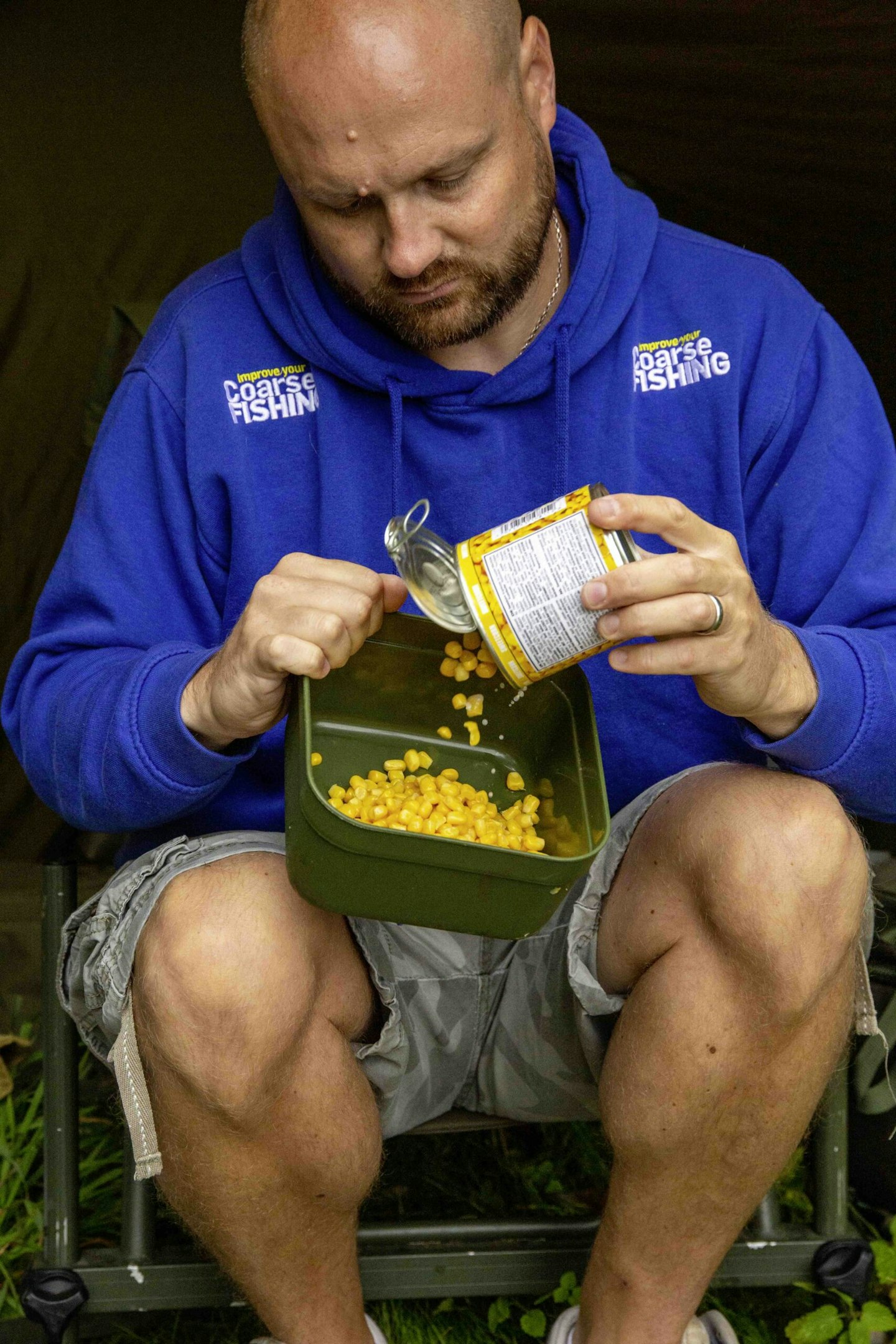 Top corn rigs
While corn can be fished on any number of rigs, I have a couple of favourites which I rely on.
My number one rig – and the one I've caught the most on – is two pieces of fake corn popped up on a longshank hook. I keep the hookbait tight to the hook and have a small piece of shrink tubing bent at an aggressive angle over the eye of the hook.
A No4 split shot is pinched on to the hooklink just above the tubing to anchor the hookbait in place. This rig can be fished on its own with a small PVA bag of freebies or over a bed of corn or mixed particles.
When stalking carp or fishing close-in, where I can see where I'm placing my rig, I like to use a short, supple braid hooklink with a drop-off inline lead. This combo provides a superb bolt effect and is incredibly efficient at nailing carp. For the hookbait, I fish a single grain of slow sinking fake corn lengthways on the hair. The weight of the hook is just enough to sink the bait, which wafts around enticingly on the hair in a similar fashion to any free offerings. If you only have buoyant corn you can get the same effect by pinching a small shot on the hair.
THERE ARE LOADS OF GREAT RIGS OUT THERE. FIND OUT MORE BY HEADING TO THE ANGLING TIMES RIG SECTION.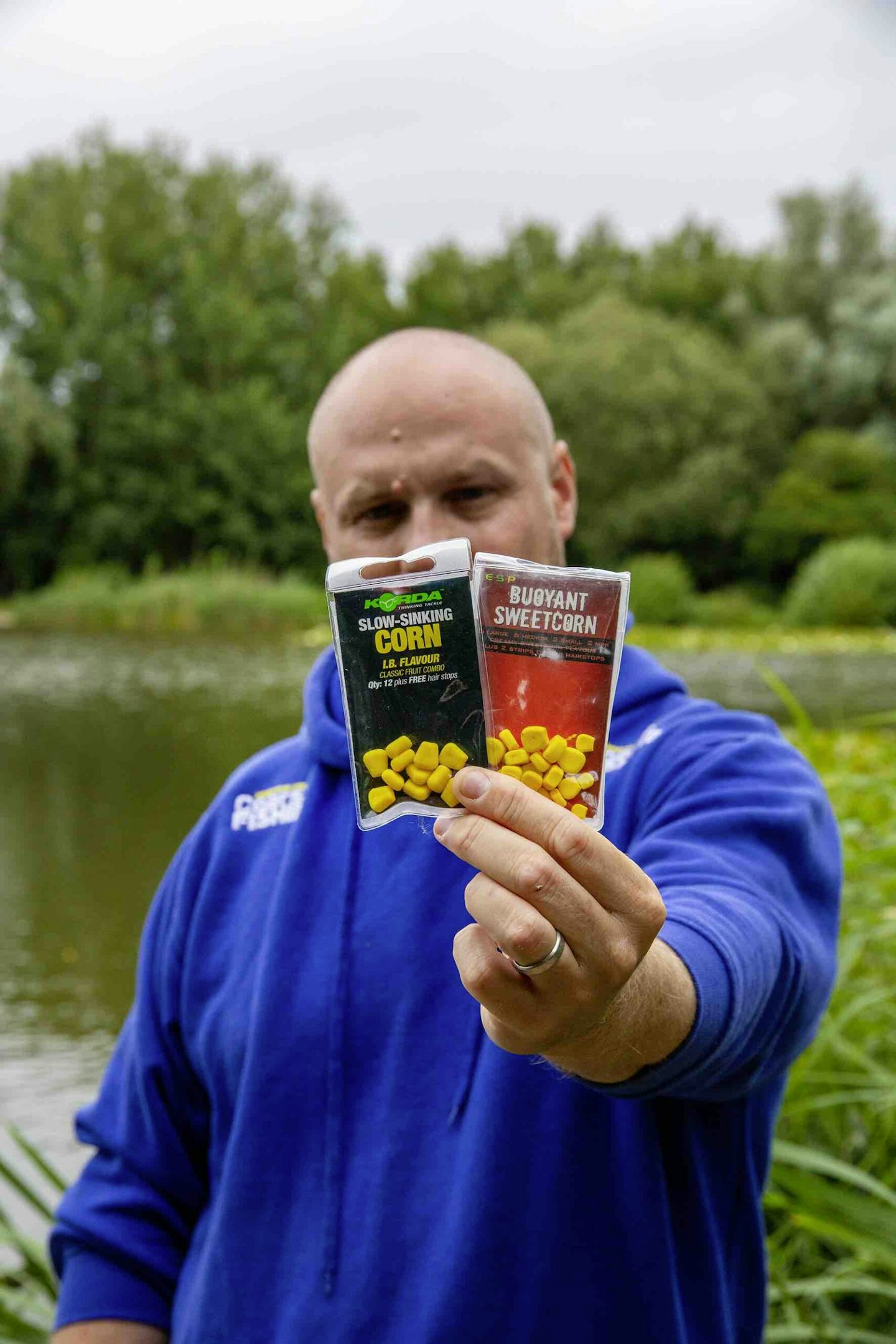 Baiting up methods
When fishing in the margins or stalking carp close to reeds or overhanging trees, you can simply throw in a few handfuls over your chosen spots by hand.
If you're fishing further out in the lake you'll need a few other tools to help get the corn to where you want it. For medium range work, a strong catapult with a large pouch will fire the grains a decent distance. For anything further than 30 yards, or if you want to create a tighter bed of bait than with a catty, you'll need a spod or a Spomb.
I start by putting out 10 Spombs of corn over my open water spot. As pretty much all species will eat corn, I want to make sure there's enough out there. I then top up the spot with a few more Spombs after each fish, or if I've seen a lot of activity over the area, such as fizzing caused by bream and tench, which may lead me to believe that most of the free offerings have been eaten.
That way I can be assured that there will always be some bait left on the spot for when carp move through the swim. Fishing over a bed of corn alone is likely to be a bit different to what everyone else on your lake is doing. While carp will be used to seeing grains of corn dotted among beds of boilies and other particle baits, it's unlikely they will have encountered a big bright bed of bait comprising nothing but corn.
On a low-stock venue this might be a bit too blatant, but when fishing on pressured venues, where carp are accustomed to seeing the same baiting scenarios day in and day out, something different like this could set your trap apart from the norm.
If I'm fishing a spot close in, where I'm able to observe what is happening, I start with just a few handfuls and then watch how the fish react. I don't need to put in as much because there will invariably be fewer nuisance species feeding here, and I can easily see when it's all been eaten and more needs to be added.
BAITING UP IS A CRUCIAL PART OF CARP FISHING. USING THE THE BEST SPODS AND SPOMBS WILL MAKE IT SO MUCH MORE EFFECTIVE.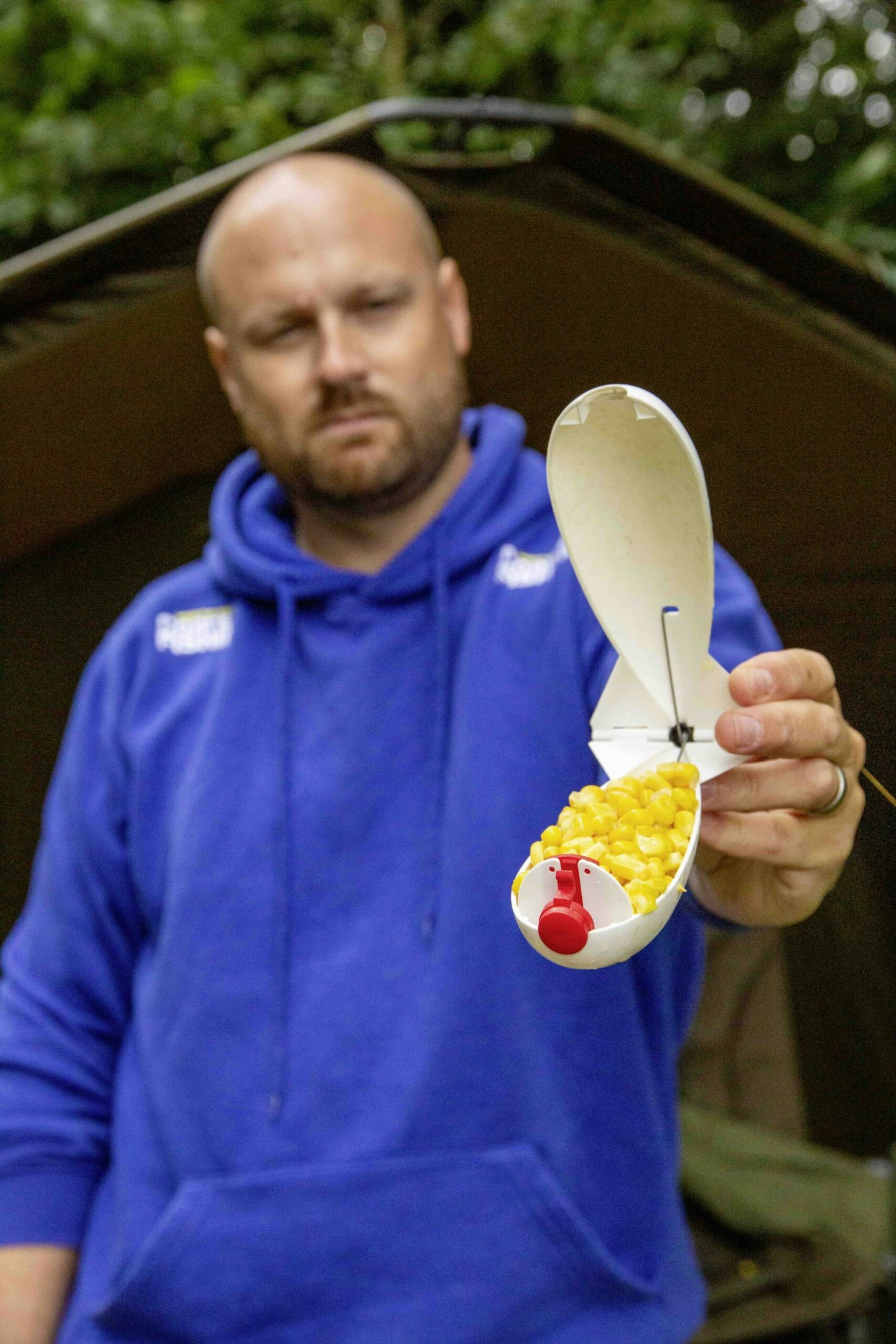 This page is a free example of the amazing content Angling Times Members get every single week. Becoming an Angling Times Member gives you access to award-winning magazine content, member rewards, our back issue archives, bonus content and more! Join our fishing community and find out more today!