You might have the most expensive tackle, but it all counts for nowt if your hook isn't up to scratch says Mark Sawyer. Here he reveals the best hooks to use for silverfish...
KORUM GRAPPLER AND PENETRATOR HOOKS
WHAT THEY SAY:
Grappler is an aggressive, curved shank hook. Its point is swept back towards the eye for maximum penetration, while the eye itself is very slightly out-turned, allowing it to be used with strong mono and braid.
The Penetrator hook is designed to go in and stay in! Its wicked, chemically-sharpened beaked point won't burr or blunt when it comes in contact with the riverbed.
WHAT WE SAY:
Korum's dull-coloured PTFE-coated Supersteel range of hooks are very popular with both specialist and pleasure anglers. When targeting really big fish the Grappler is best used on hair rigs with pellet-type baits, while the Penetrator pattern suits feeder and straight lead work, especially when targeting big barbel in fast-flowing waters. Grapplers are available in sizes 6-14, Penetrators in sizes 8-12.
Price: £1.99, www.korum.co.uk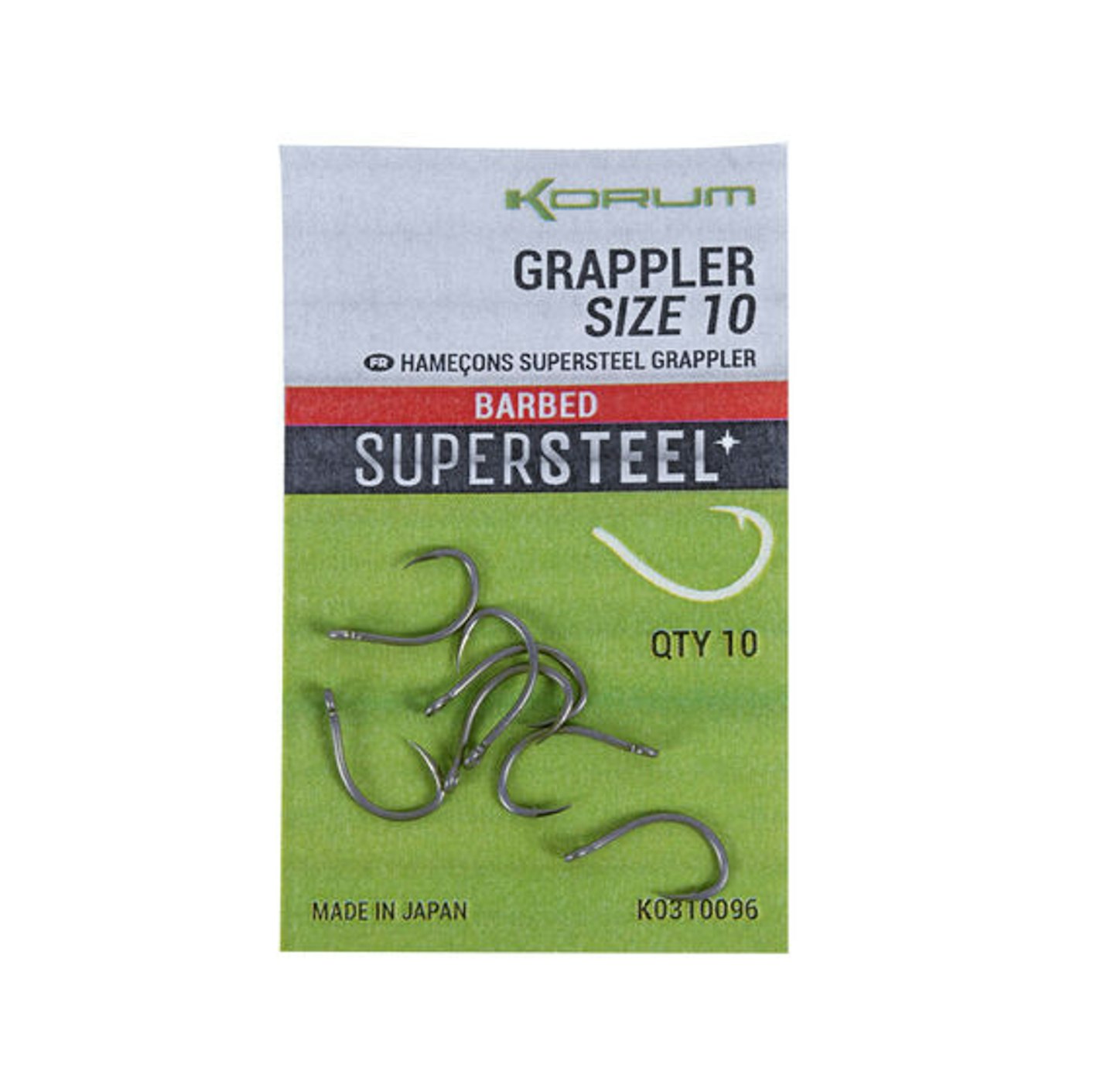 GURU POLE SPECIAL
WHAT THEY SAY:
This lightweight spade-end hook has a handy micro-barb that stops small fish spinning off. You get a non-flash black nickel finish and a wickedly sharp hardened hookpoint that doesn't blunt out. The long shank allows quick unhooking and they are well suited to maggots, pinkies, casters and bloodworm.
WHAT WE SAY:
Surprisingly resilient for their wire gauge, Guru's Pole Special hooks can also cope with light waggler tactics. Just don't be overly zealous on the strike. Sizes 14-22.
Price: £1.50, www.tackleguru.com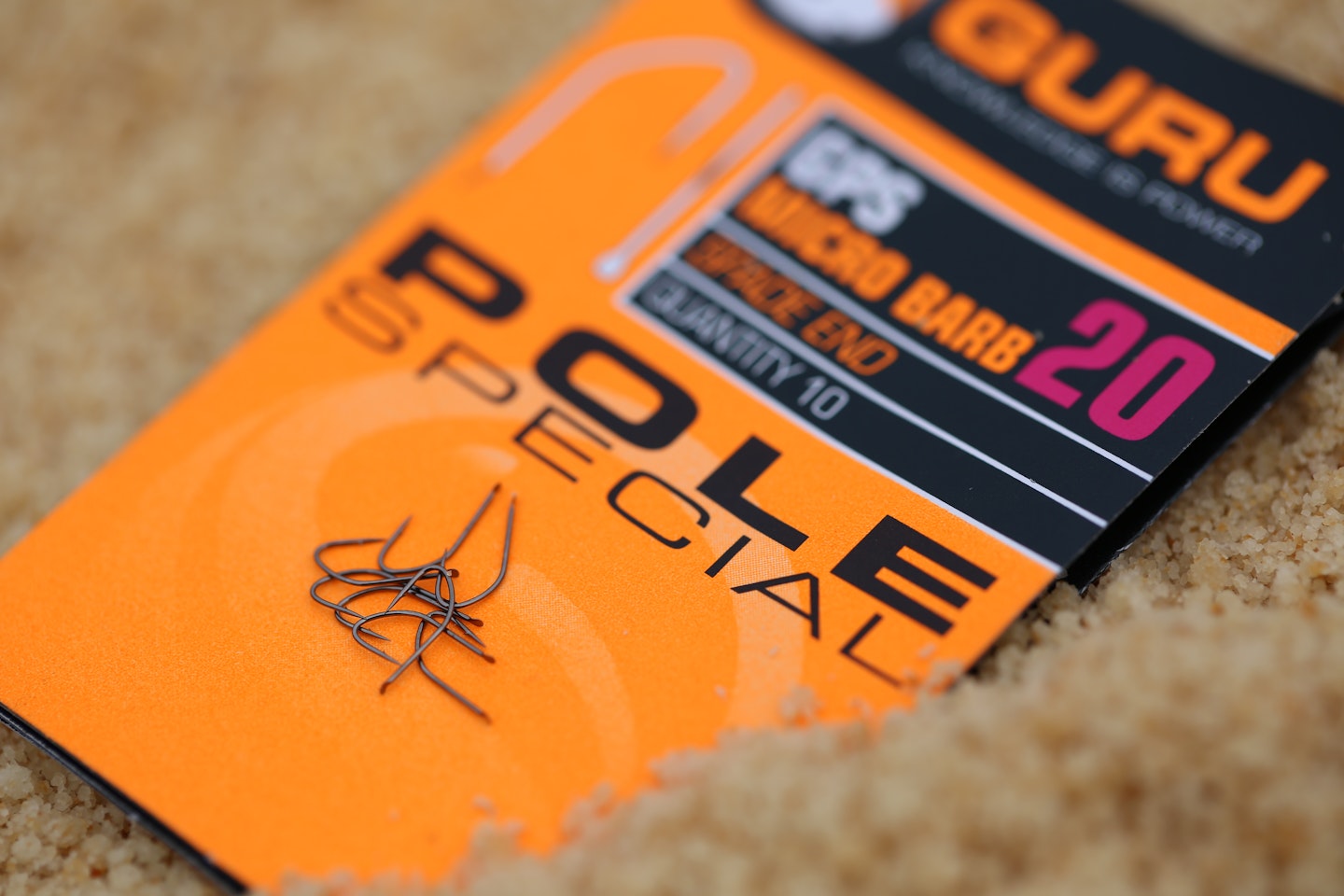 KAMASAN B520 WHISKER BARB
WHAT THEY SAY:
The original spade-end Kamasan Whisker Barb has established itself as Britain's most popular and successful match-style hook. The Model Perfect crystal bend imparts strength and reliability, suiting it to both running line tactics and pole rigs.
WHAT WE SAY:
This iconic match angler's hook has a straight, chemically-sharpened needle point that offers unrivalled presentation of single maggot and caster hookbaits in its smaller sizes. Available in sizes 8-26.
Price: £1.70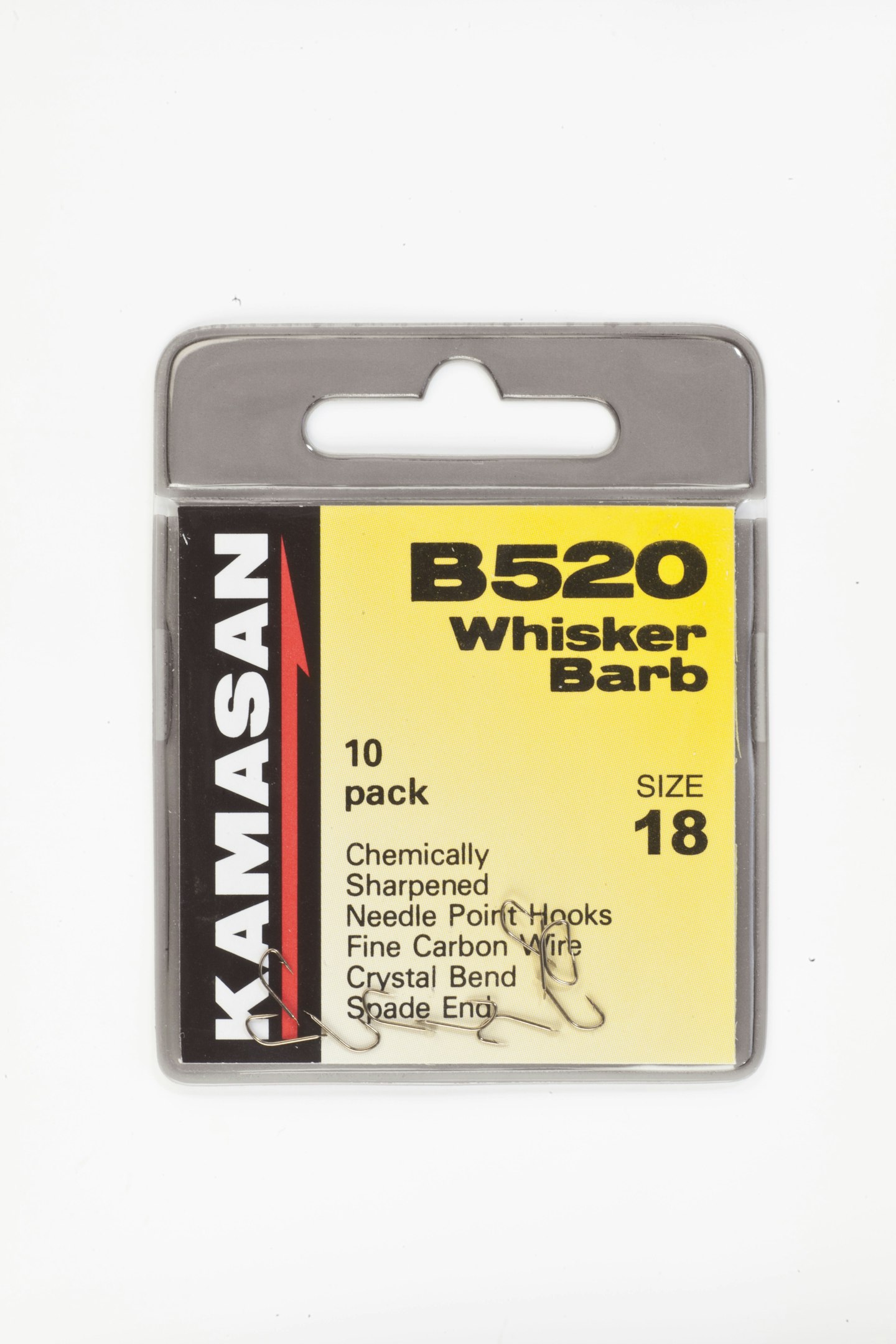 PRESTON NATURAL N-20 AND N-40
WHAT THEY SAY:
The N20 is the perfect silverfish bagging hook for feeder work. Its wide gape and needle-sharp straight point make it perfect for maggots, corn and chopped worm and its thicker wire will cope with any bonus fish you're likely to hook.
Made from thinner wire than the N20, the N40 is an out-and-out silverfish pattern. Features include a black nickel finish, super-sharp point and wide gape.
WHAT WE SAY:
If you like to keep hook choice simple, these two will cover just about all silverfish bases. Although touted as feeder hooks, they are every bit as good on pole rigs and for waggler tactics. N40 sizes 12-20, N20 sizes 10-18.
Price: £1.99, www.prestoninnovations.com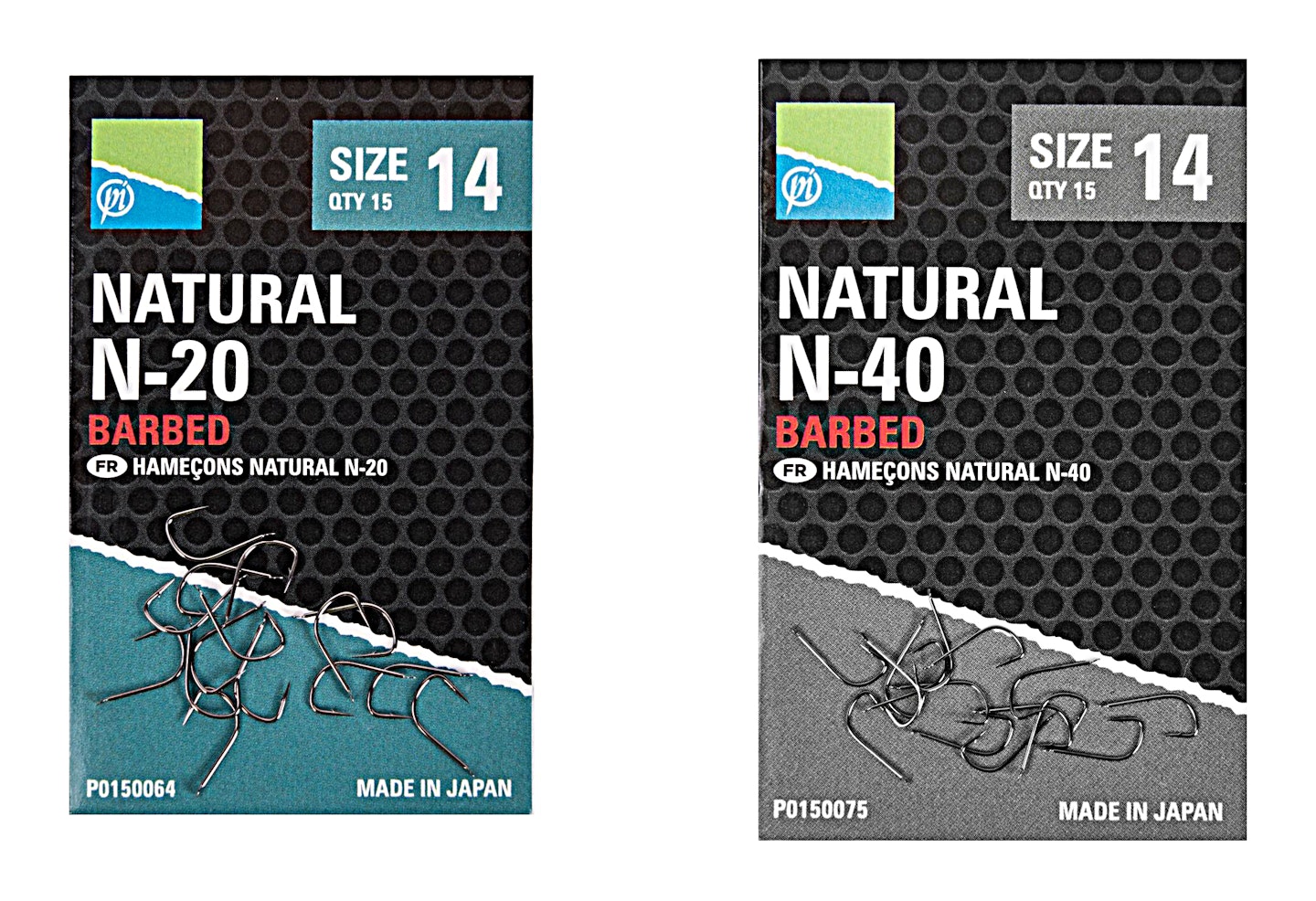 DRENNAN RED MAGGOT
WHAT THEY SAY:
In its smallest sizes the unique crystal swept bend of this pattern makes it ideal for single or double maggot or caster hookbaits. The wire diameter increases in line with hook size, giving the Red Maggot hook the durability to cope with both float and feeder work.
WHAT WE SAY:
The long needle point and micro barb are ideal for maggot baits that can be quickly and easily hooked on without bursting. Available in sizes 14-22.
Price: £1.10, www.drennantackle.com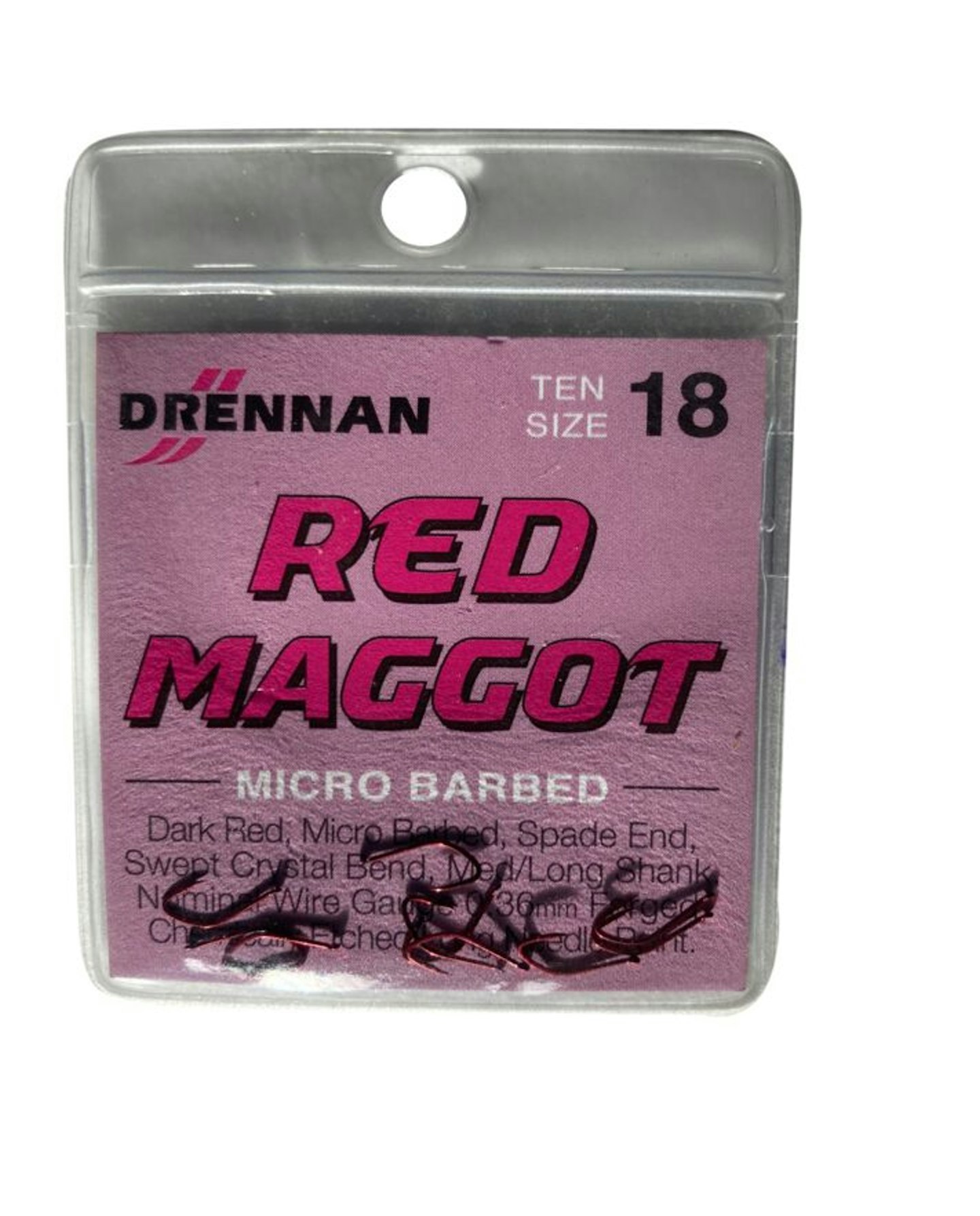 KAMASAN B511
WHAT THEY SAY:
Quite possibly the best all-round small bait hook pattern ever produced. Ideal for roach of all sizes, it comes in nickel and red colours and is made from high-grade fine carbon wire. Key features include a medium length shank and a wide gape. The flattened crystal bend prevents the hook from being overly springy and opening out under duress.
WHAT WE SAY:
When targeting small fish on the pole with small baits, the B511 is as reliable as any hook you will find. Ultra-sharp and micro-barbed, it offers superb presentation when using pinkie hookbaits. Available in sizes 10-26.
Price: £1.20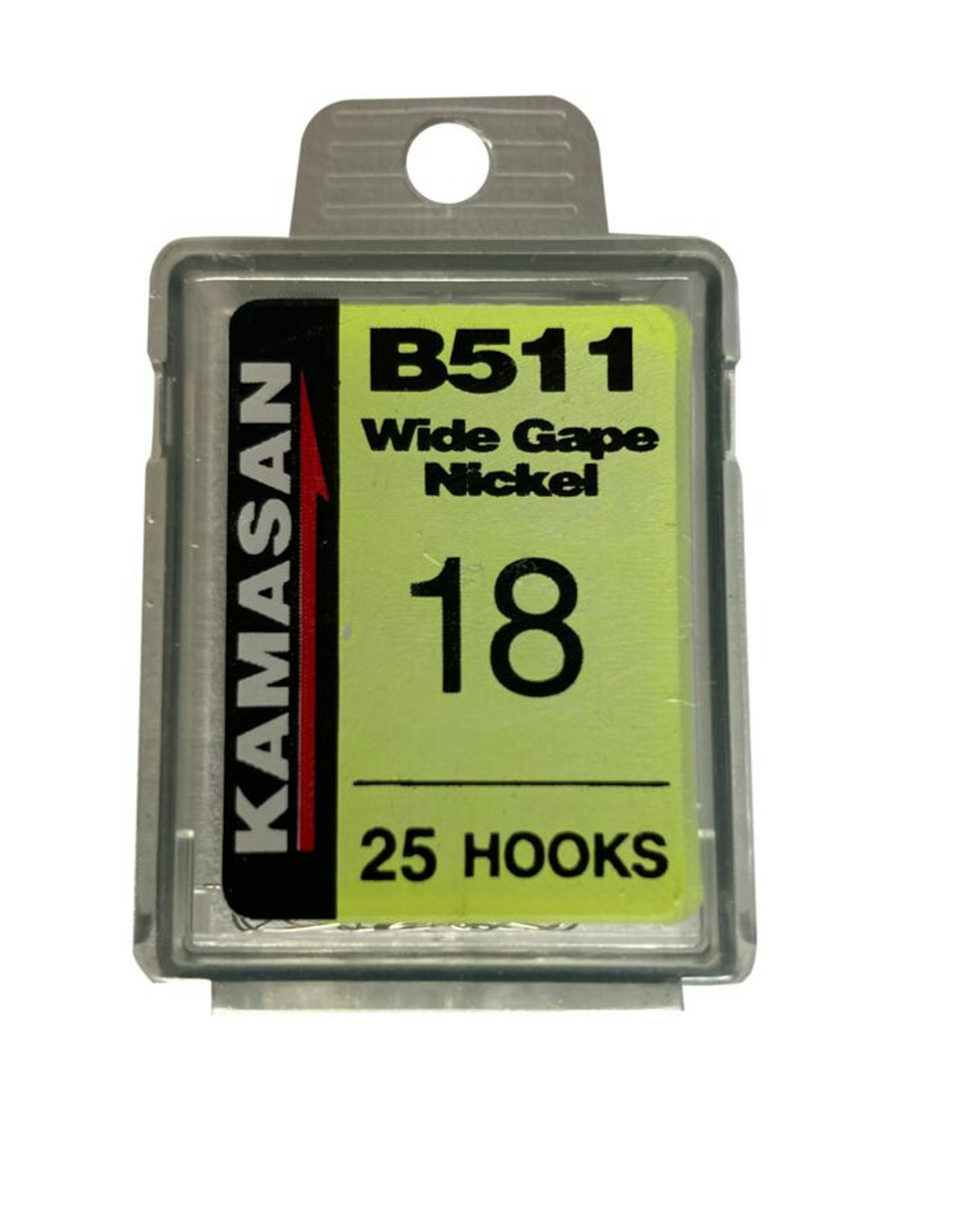 GARDNER TARGET SPECIMEN HOOKS
WHAT THEY SAY:
This hook can be used for everything from floater and zig fishing to big-fish river work. A non-flash finish offers good camouflage. A beaked point and in-turned eye optimise hooking potential, while the non-reversed bend lines up the point with the shank to help with straight line pulling power.
WHAT WE SAY:
One of the best all-round specialist hooks on the market, it covers plenty of bait options and can cope with the biggest of fish. Available In sizes 10-16, barbed and barbless.
Price: £2.49, www.gardnertackle.co.uk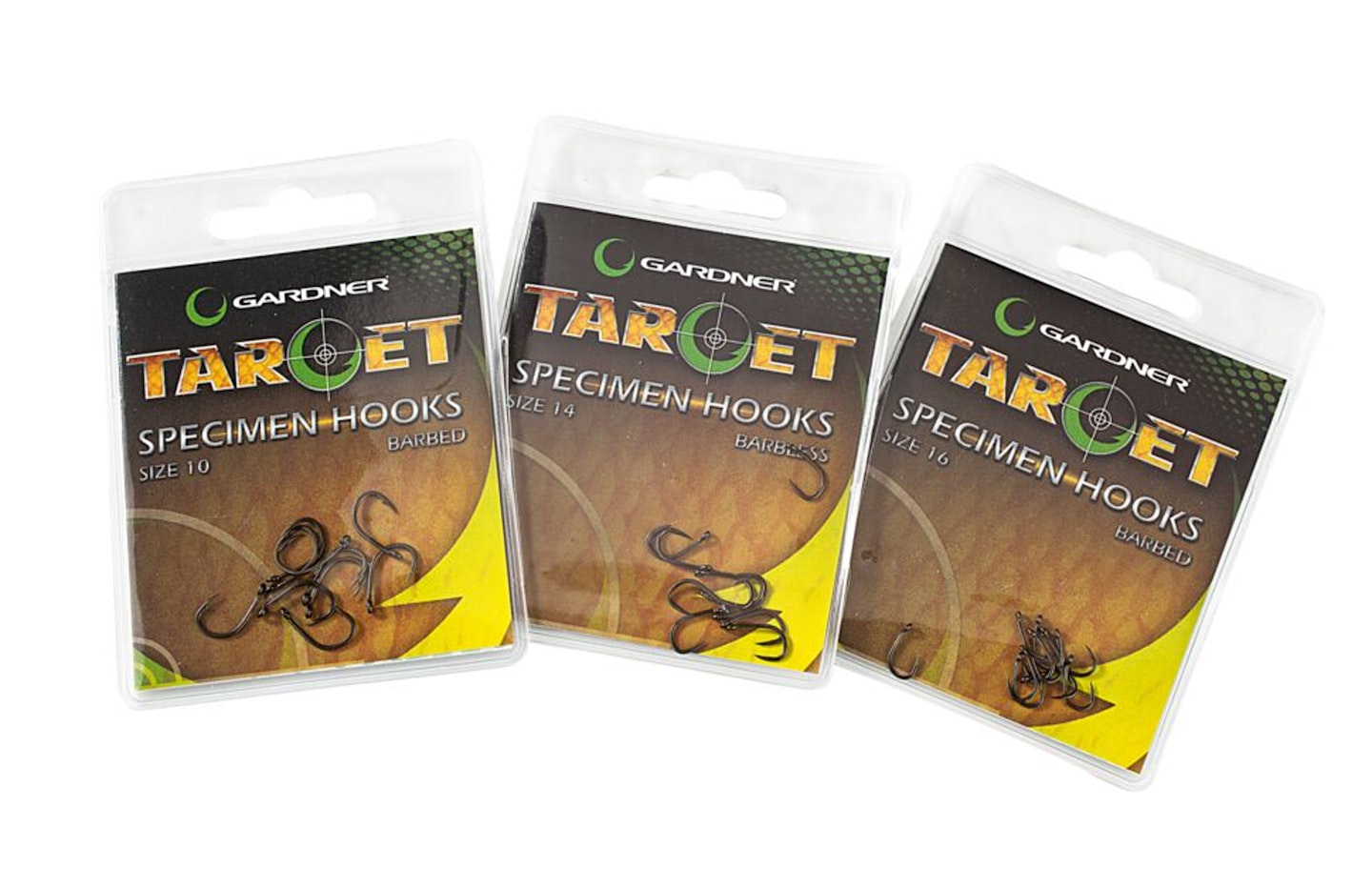 GURU SUPER XS EYED HOOKS
WHAT THEY SAY:
These hooks are based on Guru's popular XS Spade pattern, which has long been a lethal big-fish weapon with straight-hooked baits. This new eyed version in barbed and barbless formats is a super-strong wide gape pattern, perfect for hair-rigging or banding baits on commercial and natural venues.
WHAT WE SAY:
I haven't yet fished with these hooks, but judging by their shape, gape size and wire gauge they look the part for all
big-fish scenarios. I will report back when I have had a chance to use them. They come in barbed and barbless versions in sizes 8-20.
Price: £1.99, www.tackleguru.com