UPDATE 2019: THIS VENUE HAS BEEN DRAINED AND ALL FISHING HAS CEASED
Here's our lake and swim map, plus tactics guide, for the Large Lake at Rookley Country Park on the Isle of Wight...
Rookley Country Park, Main Road, Rookley, Isle of Wight PO38 3LU | Web: www.rookleyfishery.co.uk | Tel: 01983 721606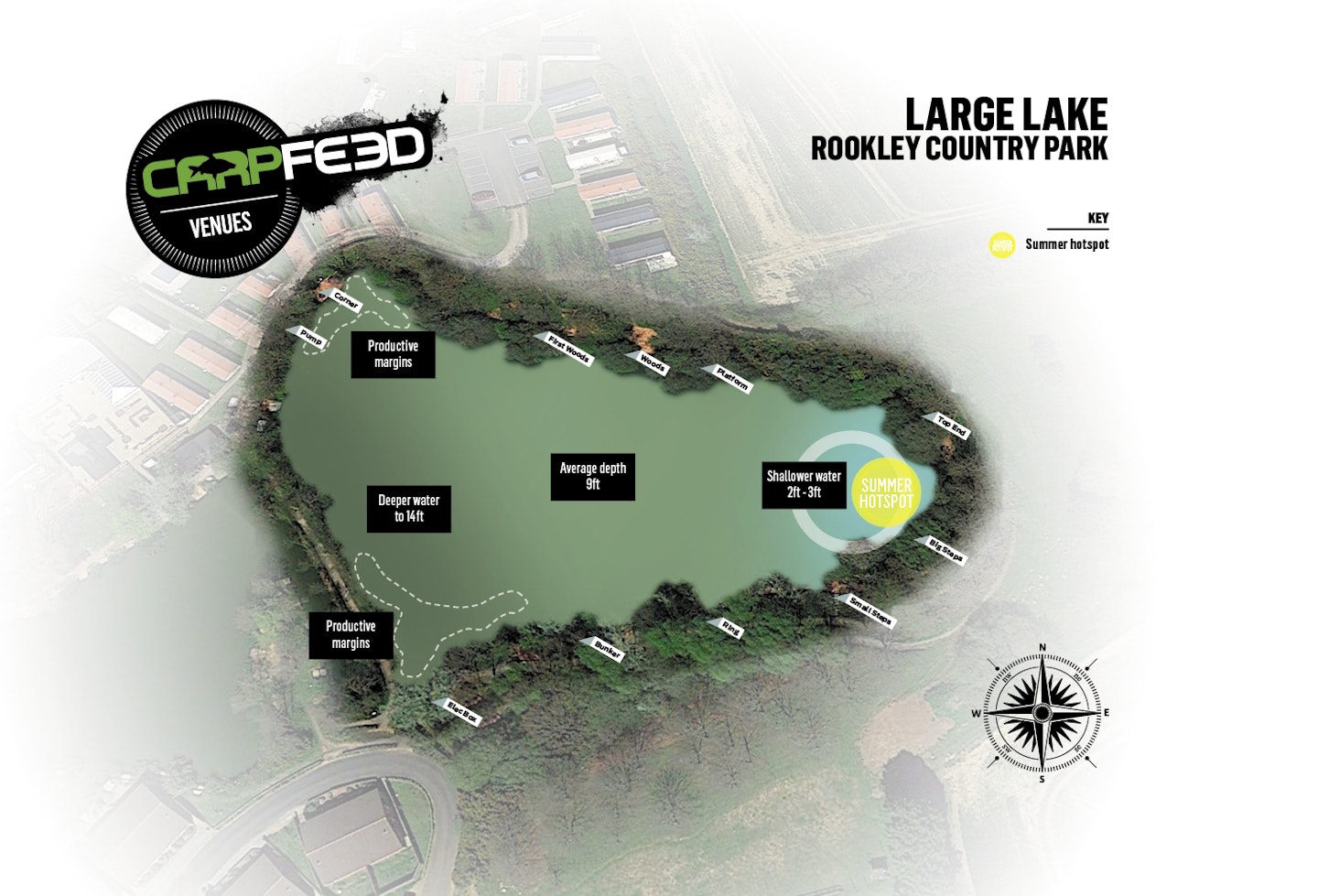 We say...
Rookley Country Park is well established on the Isle of Wight and the Large Lake has a deserving reputation for winter form, especially when water on the mainland has frozen over.
There's a high average size of fish in here, with most runs resulting in a 20-pounder. Of the 120 carp present, more than 20 are over 30lb and almost all the others are twenties. The lake record is well over 40lb.
The lake is about two acres and the fish have seen it all, so be prepared to work for your fish.
Owner Tim Oatley says...
"It's a predominantly boilie water most of the year. In winter, small pop-ups fished over small bottom baits work well.
"In the summer months the fish do like a fair bit of food and bottom baits produce the majority of fish.
"Carp Company and CC Moore boilies do well, with fishmeals being preferred in the summer and more birdfoord mixes in the winter.
"The lakebed is mainly clay with a few bits of silt. The Top End area is shallower and is popular in summer. The deepest water is at the shop end and I do like the Corner and Electricity Box swims, which have plenty of margins to go at, but the fish do come from all over the lake and in open water."
1 of 1
A winter 20 for Ian Chillcott
PRICES AND FACILITIES
£24 for 24 hours (three rods max)
£12 for a full day
On-site tackle shop
Bar and restaurant
On-site takeaway
Accommodation
RULES
No braided mainline
No nuts or beans. Particles only if bought on site or if in pre-packed sealed container
Carp-care products must be carried
No zig rigs