Here's our lake and swim map, plus tactics guide, to Holbar Lake on the Partridge Lakes complex in Cheshire...
Partridge Lakes Fishery, Glaziers Lane, Culcheth, Warrington, Cheshire, WA3 4AQ | Web: www.partridgelakes.co.uk | Tel: 07469981743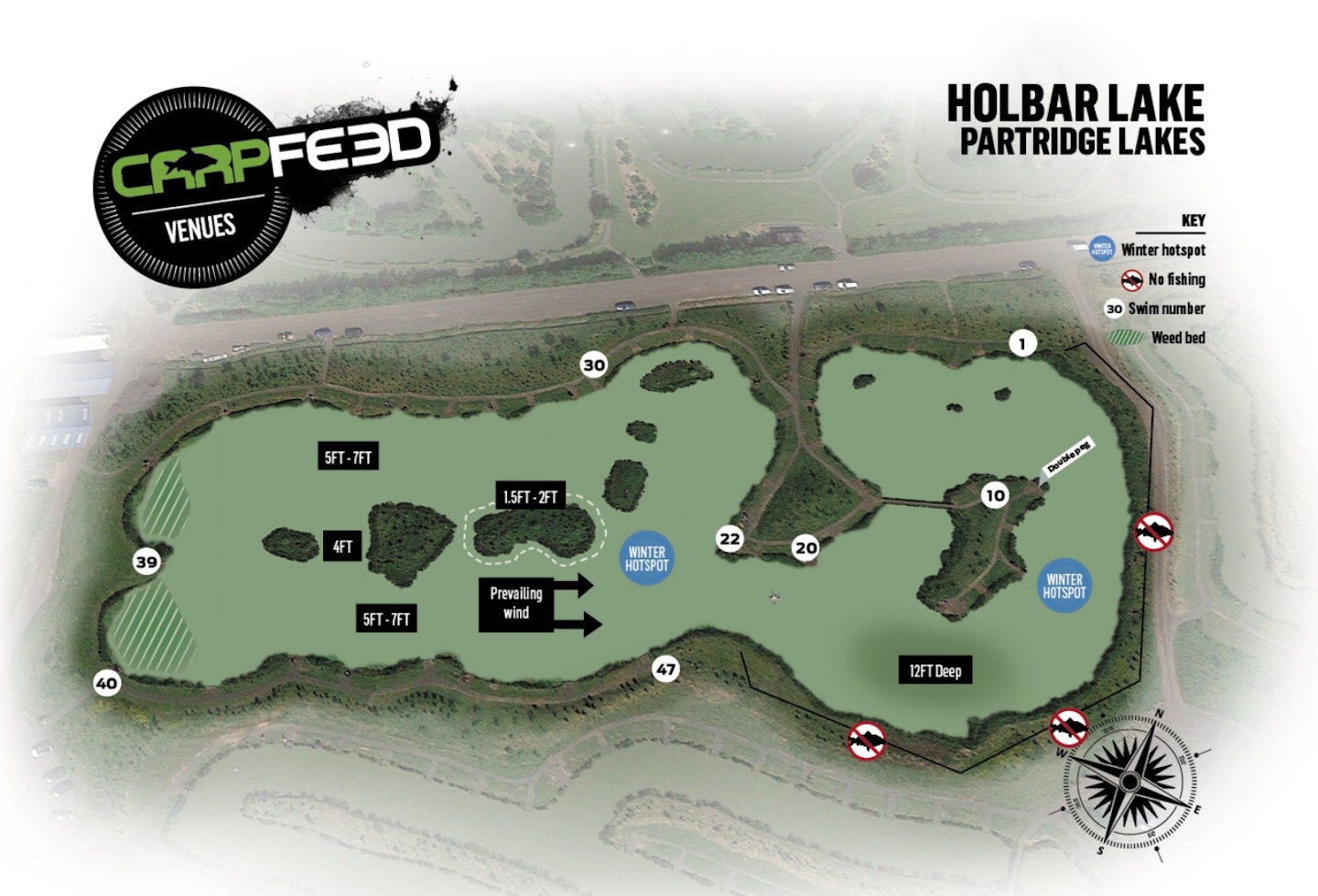 We say...
Well known as a match venue, Partridge Lakes is a 15-lake complex set in 70 acres of Cheshire countryside.
Among the huge choice of waters, Holbar is the lake with the biggest carp and there's plenty of them to interest those who prefer a multiple-rod approach.
The fish should generally be classified as 'large commercial carp' rather than out-and-out specimens, but if you're looking to get a bend in your rod then this is the place to come.
It used to be two lakes, but they were merged to form a four-acre water dotted with islands and bays. Unusually, the largest island can even be fished from at this days-only venue.
Holbar still contains plenty of species associated with match waters, such as barbel, silverfish and F1s, but the strong head of double-figure carp make it a great place to come for year-round action.
Bailiff Logan Nelson says...
"Pellets work every single time here. Banded pellets on a straight lead is the way to go.
"The best pegs are generally from 9 to 12 and from 18 to 22, which is where the deepest water is and where most of the fish are.
"You can catch fishing across to the islands and down in the margins."
PRICES AND FACILITIES
£10 per day for one rod (additional rods £5 each)
Days only
Cafe
Tackle and bait shop
RULES
No night fishing
Maximum of three rods
Barbless hooks only and no bigger than size 12
No braided mainline
No fixed rigs
1kg of boilies and 1kg of groundbait per peg per session
No floating baits or cat/dog food