This is our lake map and tips guide to fishing at Christchurch Lake on the Linch Hill complex in Oxfordshire
Christchurch Lake, Linch Hill Fishery, Stanton Harcourt, Witney, Oxfordshire, OX29 5BB | Web: www.linchhillfishery.co.uk | 07833 130041 or 07769 198609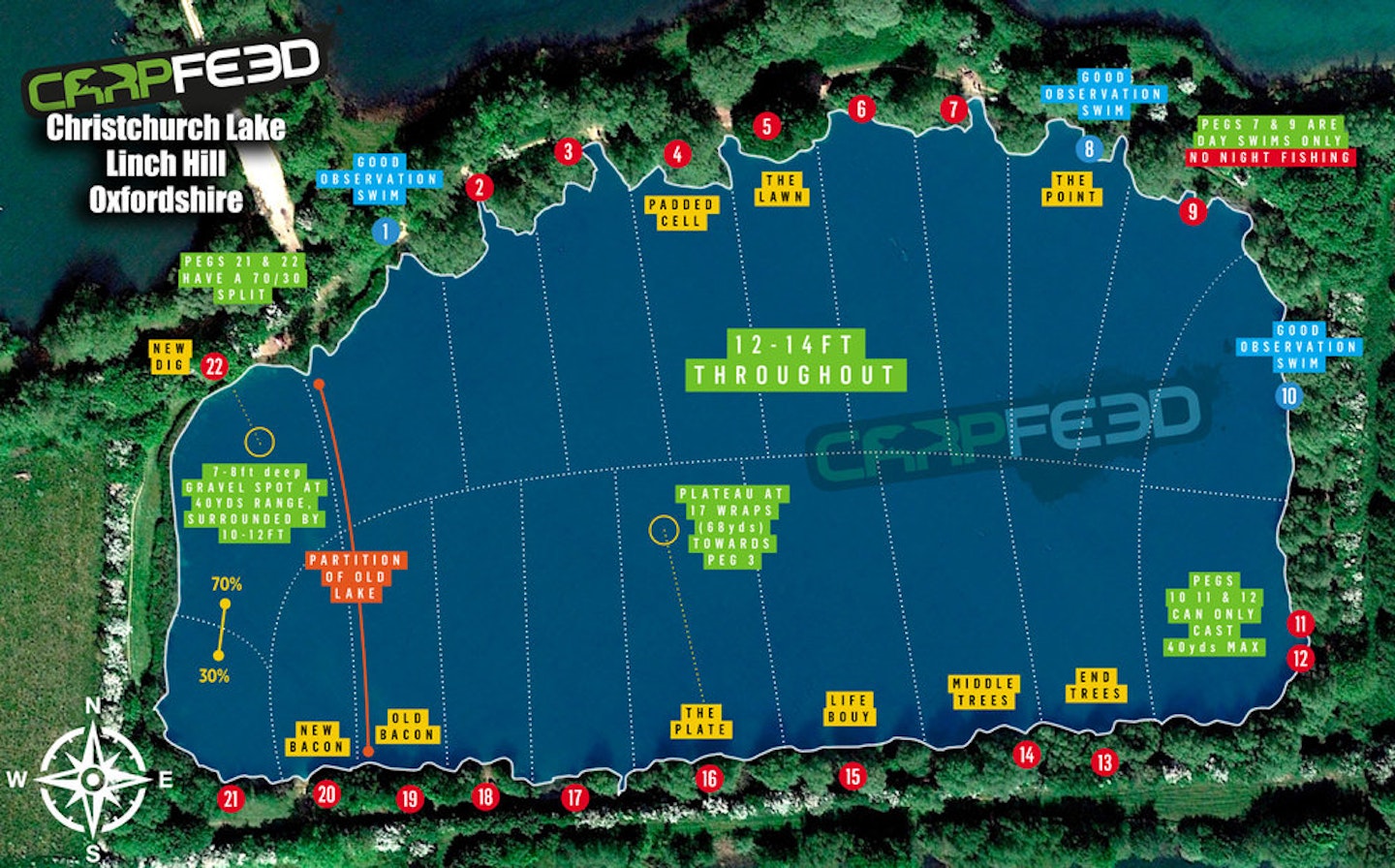 We say…
A classic Oxfordshire gravel pit, full of classic Oxfordshire carp, Christchurch is home to some of the best day-ticket fish in the land.
It sits on the well-appointed Linch Hill complex, which boasts an on-site café and tackle shop, plus another day-ticket lake (Willow) and the Stoneacres syndicate.
Estimates put the Christchurch fish stock at about 100 carp (according to our venue expert Scott Lloyd) in nine acres, but just about every single one is over 20lb, with 15 to 20 40s at the right time of years and dozens of 30s.
Christchurch actually used to be two lakes, with a smaller pond at the southern end eventually knocked through to create one body of water. It's full of marginal features, a couple of shallower spots and wily old carp that have created many personal bests.
Venue expert Scott Lloyd says…
"As with any venue, location is absolutely key here. The fish like to show themselves, especially at night and early morning, so if you're prepared to set some alarms and put the effort in you should be able to see them.
"I like to stand in a swim that gives a good view of the lake – I'd rather spend two hours in one swim with a good view than spend 10 minutes in each swim and potentially miss things as I'm moving between them.
"Pegs one, eight and 10 give great views of 80 to 90 per cent of the water on Christchurch.
"These fish get bounced everywhere by angling pressure and they certainly know how to avoid people. They can be anywhere but there are a couple of good spots.
"In peg 22, New Dig, there's a hard spot at 10-12 wraps, 40yds, slightly left of the peg. That's 7ft or 8ft surrounded by 10ft to 12ft.
"It feels clear as anything, but just be careful that it doesn't have silkweed on top, because you won't know until you reel in your hookbait.
"The end, which was originally a separate lake, is generally shallower, but there are still a couple of deep holes in there.
"In front of peg 16, the Plate, there's a plateau – a big clear area – straight out towards peg three at 17 wraps. It's only about a foot shallower than the surrounding water but it's a good spot.
"In the summer it's all about the Krill boilies. The fish are pretty much addicted to it and know what it does to them.
"That's not me trying to plug a product, but if the fish are in a funny mood then this bait can be the gamechanger.
"Post-spawning I'll be bulking it out with particles, at a 70:30 ratio in favour of particles, before gradually upping the boilie ratio as the months go on.
"In the winter it's all about the bright singles and bits and pieces like pellets and powders.
"Rig-wise, these are also the cleverest carp I've ever fished for. They taught me all I know about rigs and rig mechanics. One fish, Colin's Fish, was caught at 42lb six years ago and hasn't been out since.
"If the spot is clean-clean, I'll fish on the deck. From late spring onwards I'll be fishing noodle rigs, but when there's leaf debris in autumn, winter and early spring I'll use pop-ups."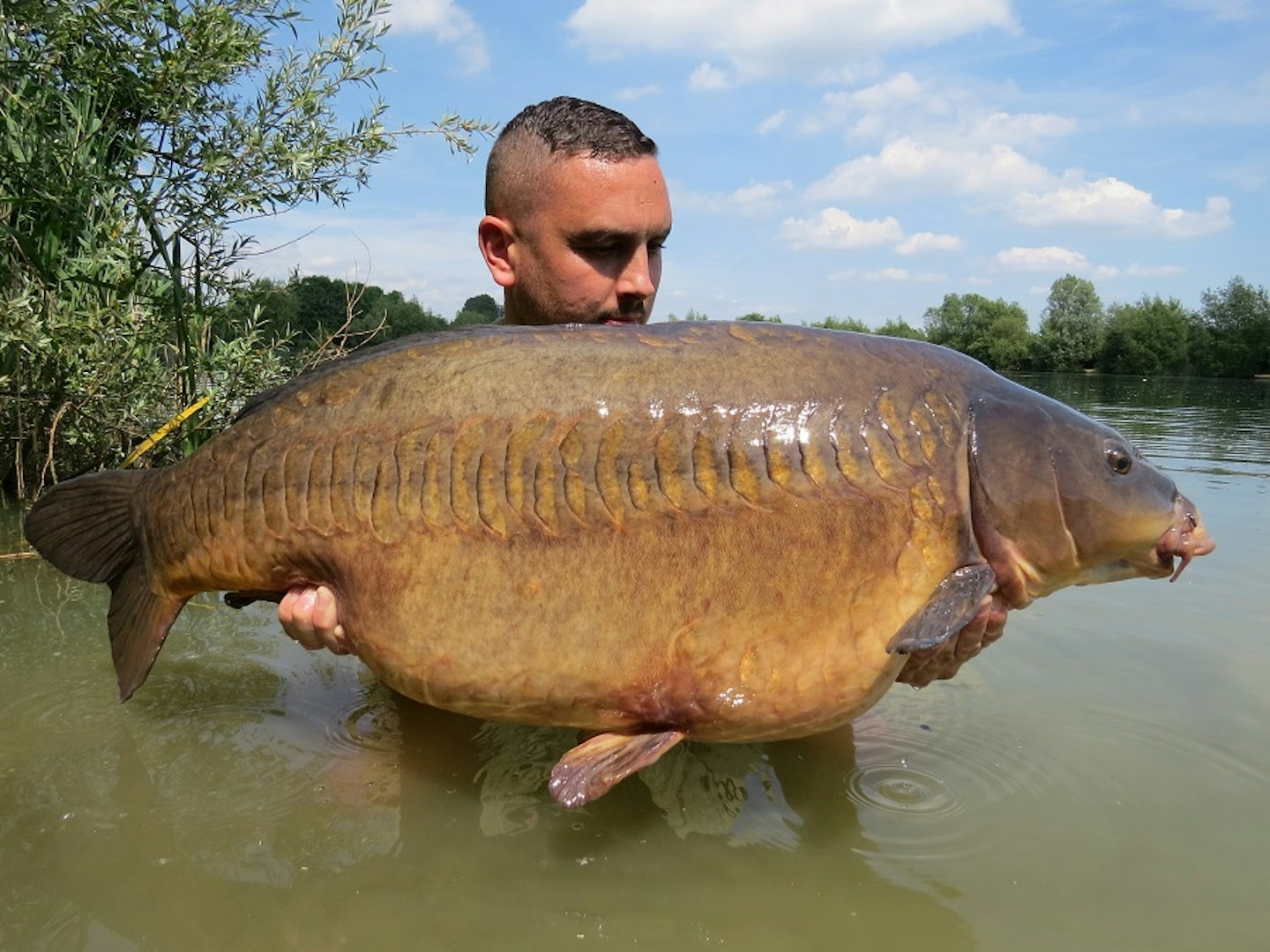 1 of 3
George's+Lin+39lb
2 of 3
Linch+hill+Scar+mirror+49lb+7oz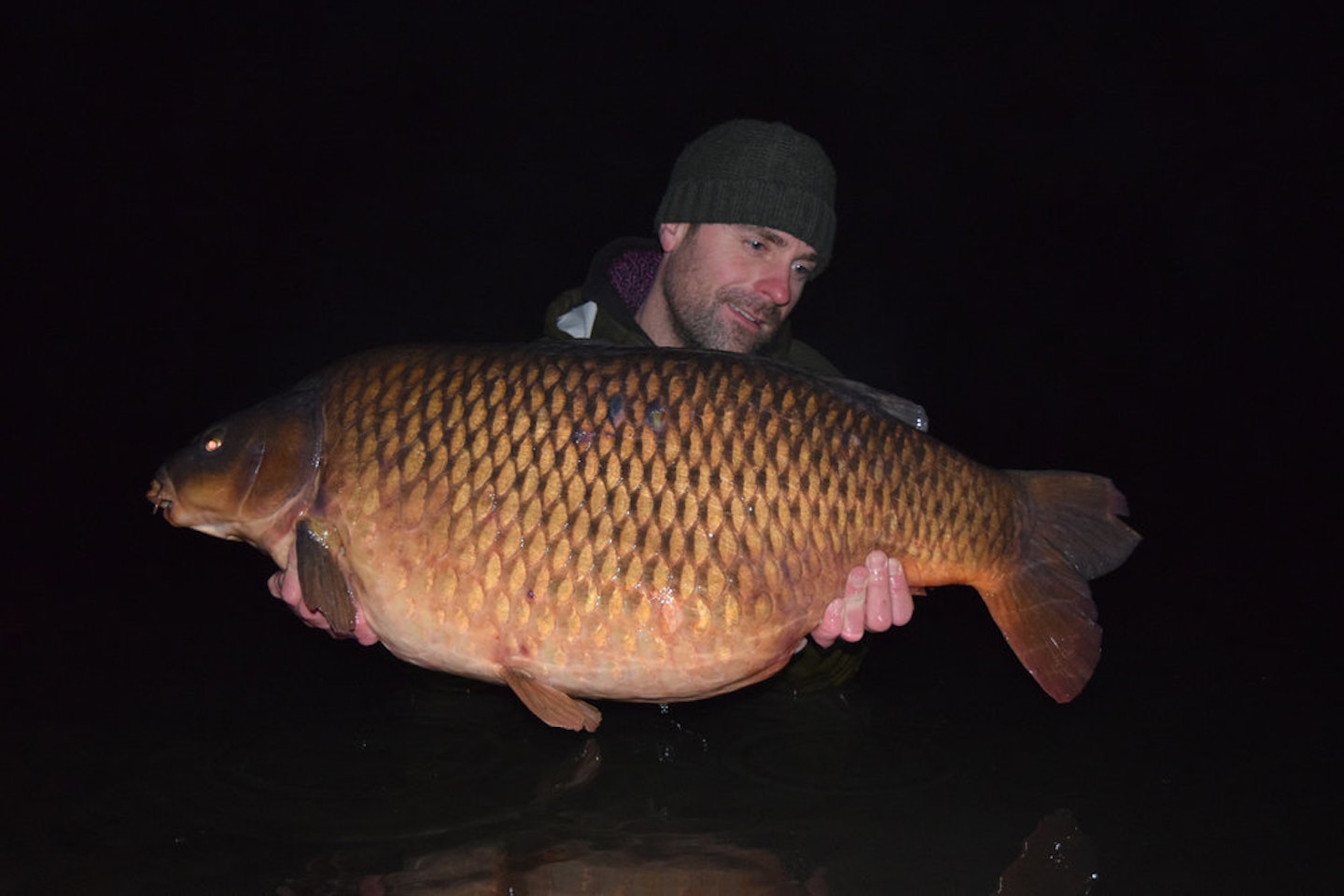 3 of 3
Box+Common+at+47lb
PRICES AND FACILITIES
£30 for 24 hours (three rods)

£20 for 12 hours (three rods)

On-site tackle shop

On-site café and meal delivery available

Winter tickets (Nov 1 – Feb 28) available
RULES
All nets, slings and mats must be dipped

No sacks or keepnets

No longshank hooks

No baitboats

No zigs, maggots, casters or peanuts

Stalking from marked swims only

Full rules on website