Our lake map and swim guide for Farlows Lake One in Buckinghamshire. Follow our tactics guide for this popular day-ticket carp fishery...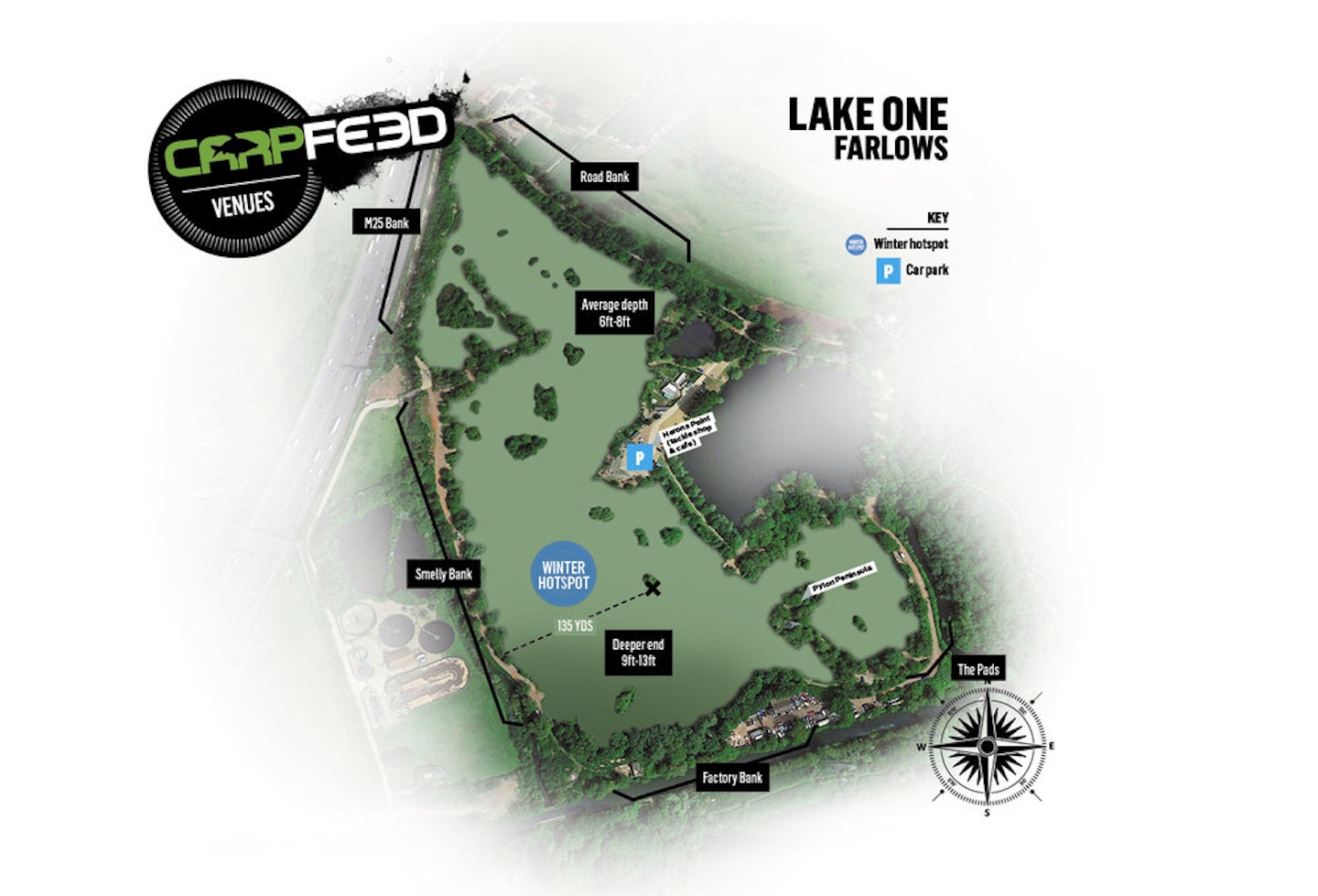 Farlows, Ford Lane, Iver, Buckinghamshire, SL0 9LL | Web: www.farlowslake.co.uk | Tel: 01753 630302
We say...
One of the first popular day-ticket waters on the carp scene, Farlows is steeped in history yet bang up to date.
An extensive stocking and management programme over the last couple of years has given this venue a new lease of life. Where once there was one lake, now there are three, but it's the largest one, with more than a thousand carp to go at, that still draws anglers from across the country.
Full of nooks and crannies, this 29-acre gravel pit on the edge of the M25 has excellent facilities and various strains of carp up to over 40lb.
Bailiff Eggy Eggleton says...
"The mirror known as the Pretty One is currently the lake record at over 42lb, but we have two or three commons coming through at around 40lb. It's hard to put an exact figure on the number of fish in the lake, but it's between 1,000 to 1,200.
"We re-stocked all three lakes and there are some stunning fish coming through.
"About 80 per cent of the swims on the lake can be driven to and you can leave your car behind your peg. The gates are open between 7am and 6pm in winter and from 6.30am until 8pm in summer."
Venue expert Wayne Mansford says...
"If you've never fished here before then come into the tackle shop and talk to Eggy and go on the Facebook page. There's lots of information out there and the staff here will always keep you updated on the most recent catches.
"Have a good walk around and have a look in the margins, in the snags and in the reeds. In winter the water is very clear, so a set of polarising sunglasses will help you spot the fish. Have a look at the reeds and if you can see them knocking then there are probably fish there. If you do decide to fish near the reeds try to cast nice and close to them and fish your clutch locked up.
"In the colder months the fish like to get up in the open water off the Smelly Bank and they do show themselves. This is the siltiest area of the lake and the fish do like to group up here in winter. Depths are about 9ft to 12ft here, with 13ft in places, while it's generally around 6ft to 8ft elsewhere on the lake and around the islands.
"I use small fluoro pop-ups in the winter. 10mm Mainline hi-vis pop-ups work well for me with a sprinkling of Cell boilies around them. I'll use maggots too, but there are silverfish in here so you don't want too many. In summer it can get weedy but I like fishing in the holes in the weed with PVA bags. Naked chod rigs work well too.
"Particles like corn and hemp can work well and the carp can move in on them quickly, but you'll also find out very soon if the bream have beaten them to it, and at that point it's time to try something different."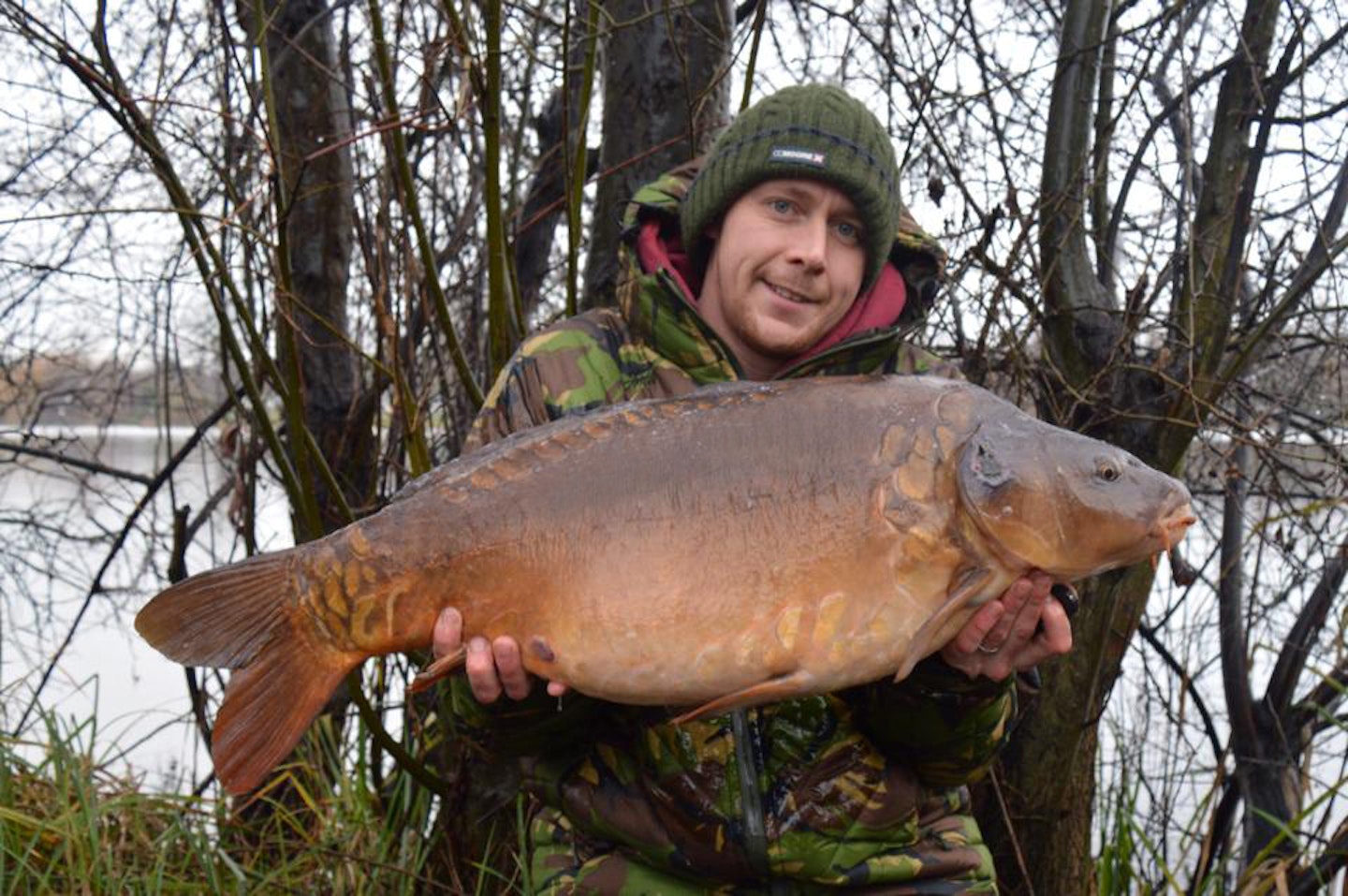 1 of 4
A 26lb Farlows mirror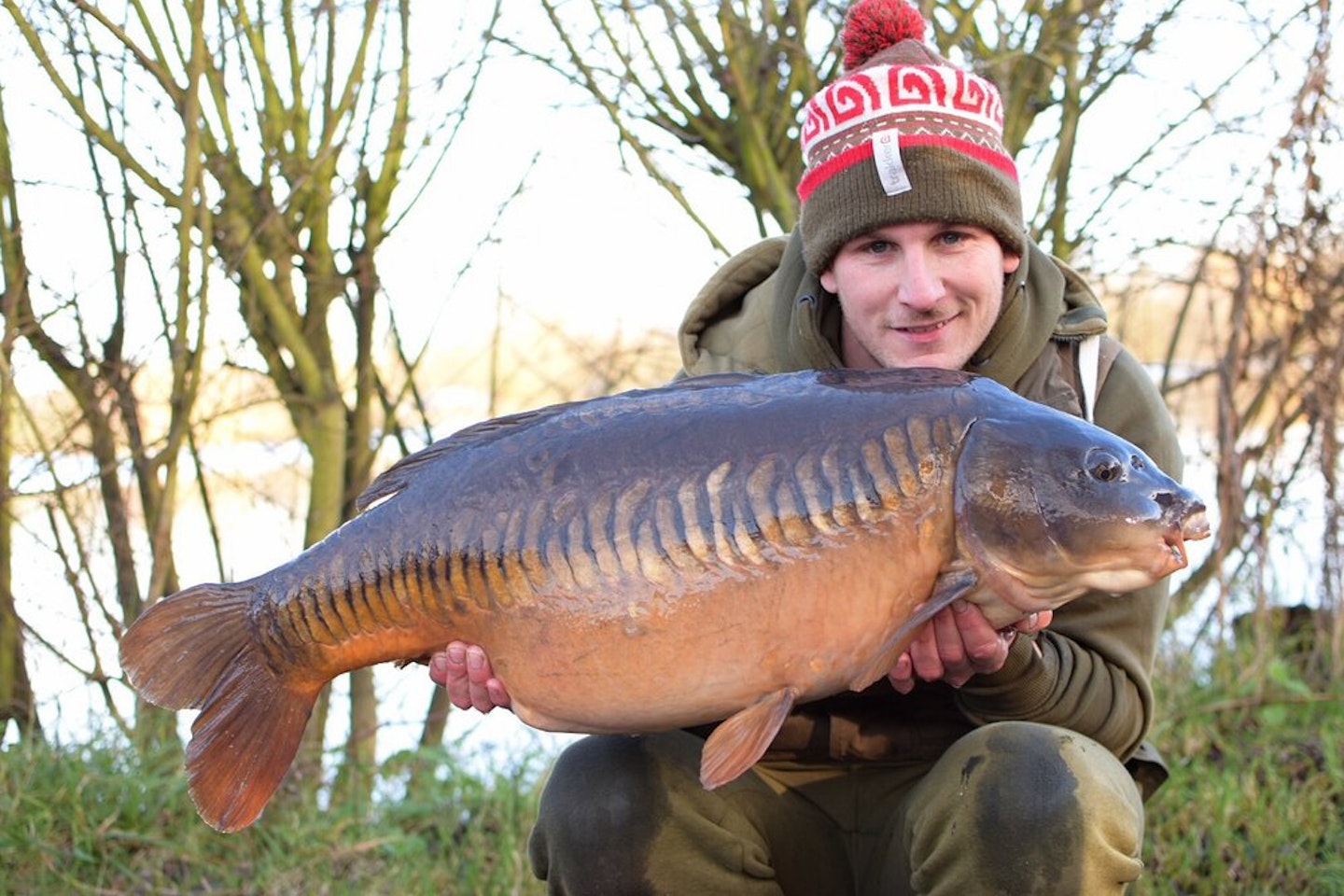 2 of 4
A 33lb stunner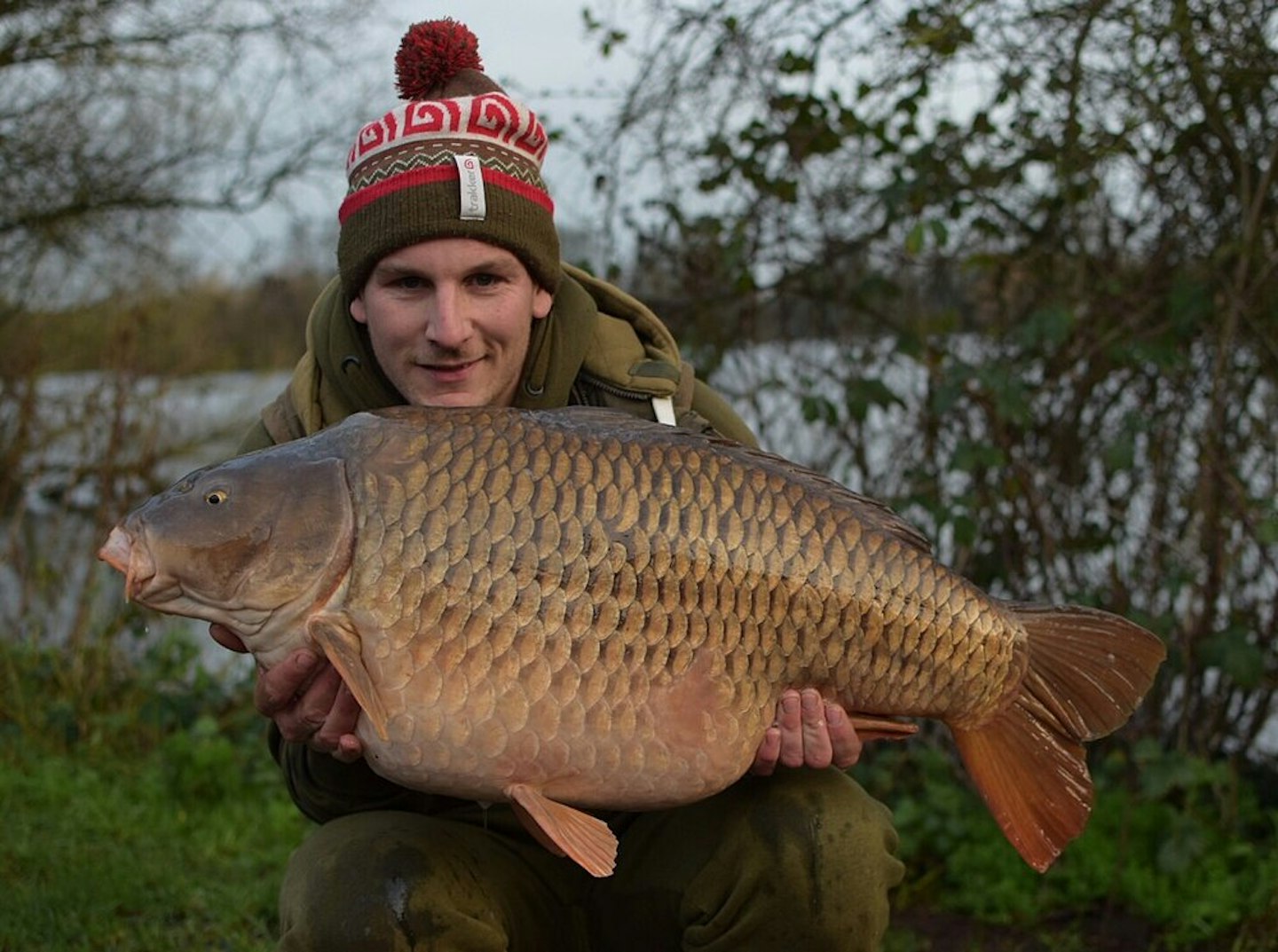 3 of 4
A 37lb 4oz common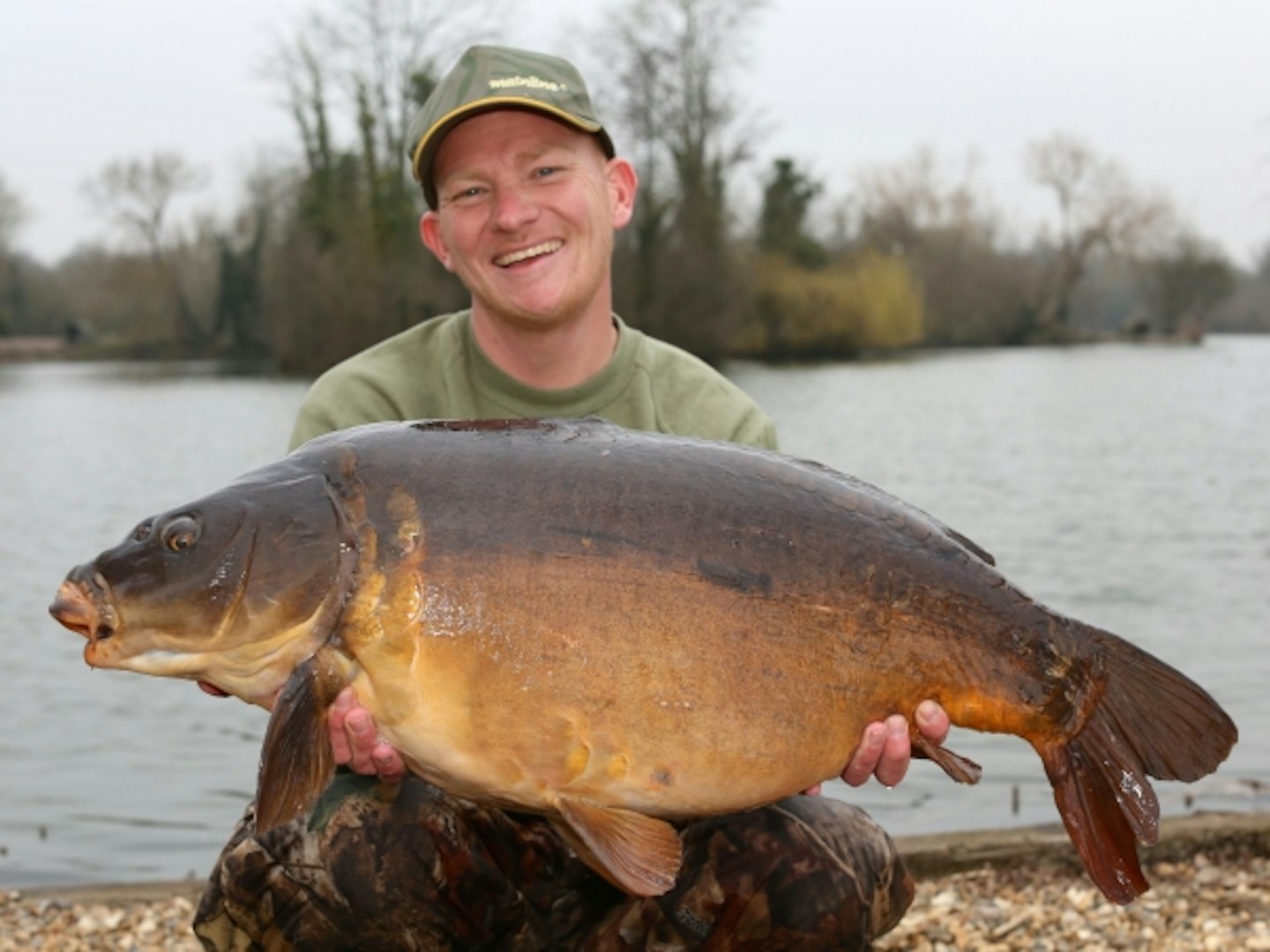 4 of 4
Venue regular Wayne Mansford
PRICES AND FACILITIES
£25 for 24 hours for three rods
£20 for 24 hours for two rods
£15 a day for three rods
£12 a day for two rods
On-site Eric's Angling tackle shop
Cafe
Toilets
RULES
All tickets must be purchased on arrival
No sacking of fish
12lb minimum mainline
Barbed or micro-barbed hooks only
No leaders except mono or fluorocarbon ones
No bait boats