Here is everything that you need to know about getting a fishing rod licence in 2019. From where to get one all the way to the different types of rod licence and how long they last for we will be covering all bases so that you know what you will be getting when purchasing one.
Angling is one of the most popular participation sports in England. With a million fishing rod licences being sold in 2017/2018 raising £23 million. In the last full year, sales of rod licences funded 350,000 fish being restocked into rivers, responding to 797 fisheries incidents and installing 37 fish passes amongst other things.
WHERE TO GET A FISHING ROD LICENCE
When it comes to purchasing a fishing rod licence there are a few ways in which you can get one. The first is to visit the official government website and purchase your rod licence online via[ https://www.gov.uk/fishing-licences/buy-a-fishing-licence](https://www.gov.uk/fishing-licences/buy-a-fishing-licence-licence )
This is the only place online that you should be purchasing a rod licence from. The other two ways for you to obtain a fishing rod licence for 2019 is via the post office and going in person to order your licence, the final way is to purchase one over the phone by calling the environment agency on 0344 800 5386
THE ROD LICENCE OPTIONS AND PRICING
There are a few different licence types to look at and decide which best suits you for when you go fishing. There is a Trout and coarse 2-rod, Trout and coarse 3-rod and a Salmon & sea trout rod licence. All three of these licences can be purchased at four different price ranges that change depending on how long you want the licence to run for, with juniors (13 and under) being able to fish for free however for juniors between the age of 13-16 they will need to apply for a junior rod licence which is still free.
See full list of prices below...
WHEN YOU WILL NEED A ROD LICENCE
You need a rod licence to be able to fish for salmon, trout, freshwater fish, smelt or eel in
England (except the River Tweed)
the Border Esk region of Scotland
You must follow national and local rules when it comes to fishing with a rod and line in England and Wales
A 12-month rod licence will last for a year from date of purchase
Make sure that you have your rod licence on you at all times or else you could be prosecuted and fined up to £2,500 when fishing without a rod licence. With the EA checking 63,000 licenses in 2016/17.
ROD LICENCE COVER ART
This year renowned angling and wildlife artist David Miller painted the images which will appear on the new Environment Agency issued fishing rod licences with the bream on the 2 rod coarse and trout licence, a mirror carp on the 3 rod licence and a sea trout on the salmon and migratory trout licence.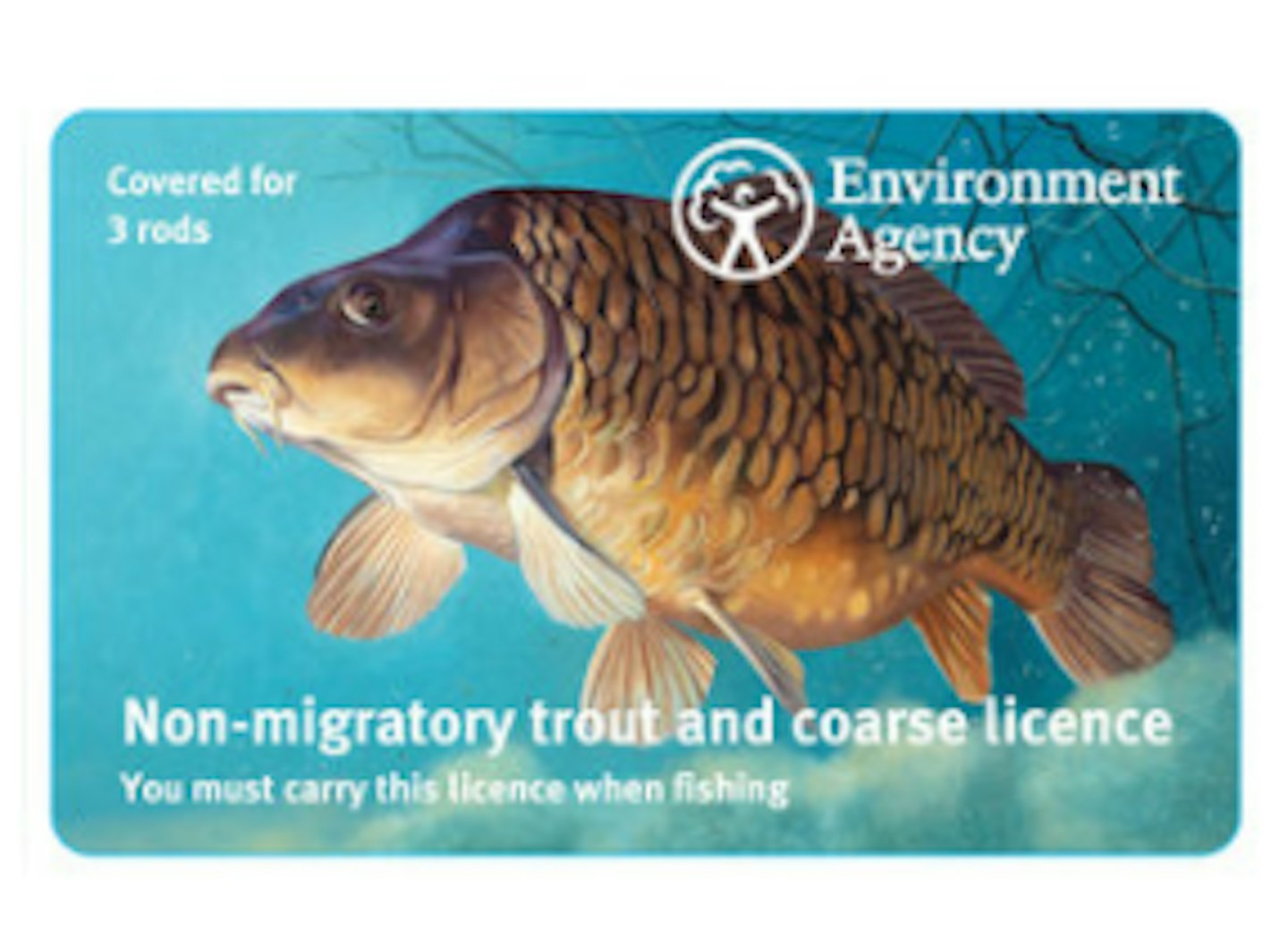 If you want to see more about this year's rod licence then you can check out the the government website here: https://www.gov.uk/fishing-licences